Weekend Box Office: Magnificent Seven Shoots Down Storks For Number One Start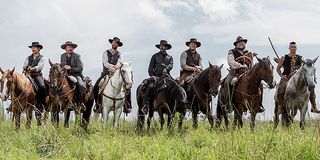 Antoine Fuqua opens a new movie in the last weekend of September which opens around $35 million, besting a second tier animated feature? If that sounds like something that happened a couple of years ago, you're not only right, you might be spending a little too much time thinking about the box office.
The Magnificent Seven hit theaters firing both barrels, but perhaps with only one barrel loaded. Following a steady marketing flood, the Western remake debuted in the number one spot, but with only $35 million against a $90 million budget.
That's almost exactly what Fuqua's last September release, 2014's The Equalizer banked when it opened. Thanks to a lower budget of $55 million, and Denzel Washington's larger presence pulling in a decent international audience, The Equalizer managed to stay out of the red, but it has yet to be seen if The Magnificent Seven can push its way to break even.
In 2014, the animated feature Fuqua trumped was The Boxtrolls. This year it was Storks. Storks is the first animated feature from director Nick Stoller who has spent the last eight years creating rated R comedies. It marks Stoller's second highest ever opening after Neighbors which opened at $49 million in 2014. Storks landed in second place with $21 million against a $70 million price tag.
After two weeks in the number one spot Sully slipped to third, adding $13 million to its $92 million domestic total. American audiences quickly gave up on Bridget Jones, but international movie-goers have pushed it into the black. Bridget Jones's Baby added only $4 million domestically on its second weekend leaving it with $16 million against a $35 million budget. Around the rest of the world it banked over $65 million, including $10 million in the UK, giving it the boost it needed for Universal to have an excuse to make a fourth entry.
For the full weekend top ten, check out the chart below: