To 3D Or Not To 3D: Buy The Right Miss Peregrine's Home For Peculiar Children Movie Ticket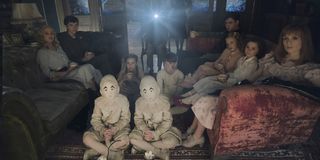 If you've been missing Tim Burton's trademark style of flash and heart, Miss Peregrine's Home For Peculiar Children might be you ticket back to the promised land. While we won't be evaluating the film itself, we are going to be looking at a bit of the magic that does help sell the film on the whole. It's time to get particularly peculiar and answer the question, "To 3D or Not To 3D?"
We won't leave you hanging if you're looking to see what we thought of the film, as you can read our official review of the adventure ahead here. But in the meantime, we're going to break down the 3D presentation of Burton's latest thrill ride, and help you determine whether this film is worth the extra 3D money, or if you should save up for a really neat pocket watch!
For a story as visually breathtaking as Miss Peregrine's Home For Peculiar Children, 3D is an opportunity to envelop the audience in the magic that Ransom Riggs' novel put onto the printed page. Throw in pivotal character traits and events that have elements that could do gangbusters in a third dimensional presentation, and you've got a film that stands to be a feast for the eye, as well as the mind.
Throughout the entirety of Miss Peregrine's Home For Peculiar Children, the 3D version of the film always has something going on. Be it the added nuance of spacial reasoning or the eye popping nature of atmospheric effects that pepper the film's action, it never feels like the 3D takes a rest during the film. You could break apart this film's 3D elements into various layers that add up to a technically impressive whole.
Looking at all of the effects present in the adventures of Miss Peregrine and her children of peculiar nature, there was a lot of potential for objects to start flying out of the screen and at the audience. Miss Peregrine's Home For Peculiar Children definitely lives up to this potential, with bees, rain drops, dust motes, and snowballs being pelted out at the audience. There's even some flinch-worthy moments with said objects, and that alone makes for a lot of visual fun.
Spatial reasoning is something that can make or break a 3D film, as flat backgrounds or characters can lead to a rather lifeless looking picture. Not so with Miss Peregrine, as the distance between characters and their environments, as well as each other, are clearly delineated. Nowhere is this more readily apparent than in scenes with environmental effects like rain, water, and snow, as their eye-popping nature helps separate the backdrops to various scenes in the film.
Miss Peregrine's Home for Peculiar Children is a film that's at home with a lot of muted tones, with gray and blue dominating the color palette of the film. There's definitely a noticeably dim quality between the film's presentation without the glasses and with them on, but it's not so distracting that it takes you out of the film. Keep in mind, your mileage may vary with this factor, as your local theater may or may not have their 3D projection system properly calibrated.
There's not only a lot of blur in the 3D effects to Miss Peregrine's Home for Peculiar Children, those effects are consistently blurry throughout the film. Even moments where a typical third-dimensionally enhanced presentation would have a character anchoring the scene with no blur at all are enhanced with a minute level of blurriness. This one of the visually deepest 3D films I've seen this year.
There's a lot of action throughout Tim Burton's latest film, and when a 3D film contains a lot of action, there's plenty of potential to dizzy your audience with moments that cause the eyes to wonk out. No such moments populate Miss Peregrine's Home for Peculiar Children, and this is a film where stop-motion skeletons do battle with CGI beasties of another realm.
Besides a minor gripe with the brightness factor of the film's 3D presentation, every other portion of Miss Peregrine's Home for Peculiar Children impresses behind those trademark black glasses. Whether you love the film or not, at the very least your eyes will be treated to a spectacle that is truly outstanding. It's a film that truly earns your 3D money in spades.
Your Daily Blend of Entertainment News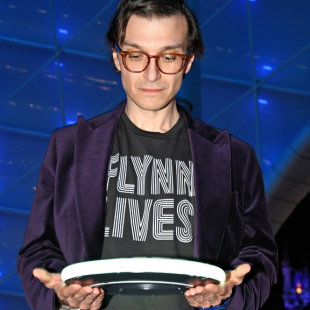 Senior Movies Contributor
CinemaBlend's James Bond (expert). Also versed in Large Scale Aggressors, time travel, and Guillermo del Toro. He fights for The User.