Michael Pena's Upcoming Horror Movie Has Hit A Snag, Get The Details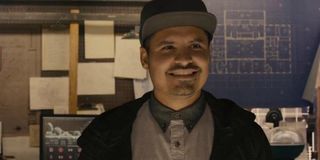 In many ways 2015 was the year of Michael Pena. He made both Ant-Man and The Martian immeasurably better with his presence, providing the comic-relief in the Paul Rudd and Matt Damon blockbusters. 2016 and 2017 sees him reaping what he sowed with numerous roles, but one of his projects has hit a road-block after Sony Pictures decided not to proceed with The Bringing.
But The Hollywood Reporter didn't just bring the bad news with the revelation that Sony Pictures isn't moving ahead with the horror film, they also had some rather some good news, too. That's because The Bringing is set to find a brand new home as several other studios are already interested in the film.
Like the prize pig at the fair, The Bringing suddenly has quite a few offers to consider, as Lionsgate, New Line, Paramount, and STX Entertainment are all in the process of trying to woo those involved. There are a number of factors at play, though, most integral of which is when The Bringing can start production as Michael Pena currently has a window to make the film that he wants to take full advantage of.
The Bringing is based on the death of Elisa Lam back in 2013, who was found in a water tank on the roof of the Cecil Hotel in Los Angeles. However, that only tells half the story, because security camera footage of Elisa Lam in the elevator just hours before her death showed her acting rather peculiar. After her death the footage went viral, as conspiracy theorists started to speculate over what led to her death. You can see for yourself below:
I think we can all see why that's ripe for the horror genre. In fact, I'm pretty sure it will haunt my dreams for the rest of my days.
The Bringing's script revolves around a man who is investigating a woman's death in the notorious Cecil Hotel, while Kevin Kolsch and Dennis Widmyer have now replaced Jeremy Lovering as the directors on the project. The duo also recently did a rewrite on the script, too, and Matthew Tolmach (The Amazing Spider-Man, Jumanji) is producing alongside Daniela Cristina Cretu.
Kevin Kolsch and Dennis Widmyer rose to prominence in 2014 after writing and directing Starry Eyes, which after its world premiere at South by Southwest in March garnered a cult audience. Those of you that missed the boat with Starry Eyes can get a sneaky peak about what all the fuss was about by watching the trailer below:
From the sound of things Michael Pena and everyone involved in The Bringing is looking for a quick turn around, so we could see it towards the end of 2017.
Your Daily Blend of Entertainment News