Finding Dory Has An Inside Out Easter Egg We're Pretty Sure You Missed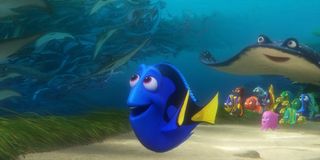 It's no secret that the folks at Pixar love to sprinkle references and Easter eggs to past films throughout their movies. Some of these are instantly noticeable to even the most cursory Pixar fan, while others require multiple viewings to pick up on. It's a tradition that has existed for years, and Pixar's latest films definitely continue to embrace it. With that in mind, while we knew Finding Dory was chock full of great Easter eggs, it now seems that Inside Out's Riley Andersen had a cameo that none of us ever even noticed.
Disney has just released a brand new video showcasing all of the awesome Pixar gems hidden in the background of Finding Dory. One of the most awesome revelations is the fact that Riley Andersen from Inside Out actually makes an appearance in the Finding Nemo sequel. Specifically, she pops up in the background of a shot when Dory finds herself in a tank at the Marine Life Institute. It's one of those "blink and you'll miss it" moments, but it's definitely there.
Logistically this all ties together quite nicely. After all, Inside Out did take place in the Bay area in Northern California, which also happened to be where the Marine Life Institute was located. Despite all of her trepidations about moving to San Francisco from the American Midwest, it seems that Riley finally settled in nicely and found a group of friends in her new home.
Of course, this Easter egg should make plenty of sense to anyone familiar with the myriad fan theories associated with Pixar's films. One of the most popular theories on the web is the idea that every single Pixar movie (much like Quentin Tarantino or Kevin Smith's films) actually takes place within the same universe. From Brave, to Toy Story, to Wall-E, to Cars, all of these stories exist in the same world, just at different points in time. Pixar has never officially confirmed this theory, but the presence of Inside Out's Riley in the background of Finding Dory only continues to tie these movies together.
Check out the clip below to get an actual glimpse of Riley's scene in Finding Dory, and to see more awesome Easter eggs that you may have missed from this summer's Pixar adventure:
There's absolutely no question about it; Pixar has easily become one of the most definitive voices in the world of animation. As the Pixar universe continues to become more and more fleshed out, we can only assume that awesome Easter eggs such as this one will continue to pop up as time goes by. With that in mind, we can't wait to see what happens next! Finding Dory is now available on DVD, Blu-ray, and Digital HD.
Your Daily Blend of Entertainment News
Originally from Connecticut, Conner grew up in San Diego and graduated from Chapman University in 2014. He now lives in Los Angeles working in and around the entertainment industry and can mostly be found binging horror movies and chugging coffee.