The Secret Life Of Pets Got An Honest Trailer, And It's Not Pretty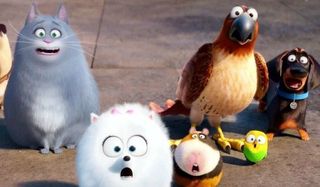 The Secret Life Of Pets was one of several family films that proved to be highly lucrative during 2016, as it ultimately amassed the whopping amount of $874.3 million at the box office. But while it possessed an all-star cast and was even met with mostly positive reviews, going on to score the respectable 75% on Rotten Tomatoes, that hasn't stopped it from being savaged by Honest Trailers, who took The Secret Life Of Pets to task for being a dumb, budget version of Toy Story. But, as you'd expect, they found numerous other reasons to poke fun at the comedy, too. Click below to see them.
As Honest Trailers rightfully points out, The Secret Life Of Pets does ultimately boil down to Toy Story, just without the toys, while it's also hard to argue that it matches either the heart or humor of its Pixar predecessor. Which is understandable because Toy Story is a bona-fide classic of the highest order.
In fact, as the above video explains, Pixar is really to blame for just how underwhelming The Secret Life Of Pets was for the team over at Honest Trailers. Because of the likes of Finding Nemo, Toy Story 1, 2, and 3, Inside Out, Wall-E, and Up, we've now come to expect that every film of a similar ilk will be able to match them.
According to Honest Trailers, The Secret Life Of Pets fails in this mission, because it is overly chaotic, violent and cartoonish, while it also features way too many characters. This overpopulation stretches the film too thin and leaves the audience lacking any interest in the film's main protagonists. Which is a shame, because the vocal talent involved in The Secret Life Of Pets is truly top notch, as it's led by Louis CK, Eric Stonestreet, and Kevin Hart, with Jenny Slate, Ellie Kemper, Albert Brooks, Lake Bell, Dana Carvey, Hannibal Buress, Bobby Moynihan, and Steve Coogan popping up in supporting roles.
Personally, I enjoyed The Secret Life Of Pets. Sure, it doesn't come close to matching the prowess of Pixar, but neither do 99% of films. But I still laughed and was thoroughly entertained while watching it, and you could argue that Kevin Hart has never come closer to showcasing the energetic stand-up persona that has made him so popular than as the film's antagonist Snowball, the white rabbit. Especially since the animation was used to exacerbate his loud and over the top traits that he's yet to really showcase in his live-action roles.
Sadly for Honest Trailers, discussions have already begun on The Secret Life Of Pets 2, with director Chris Renaud, writer Brian Lynch, and producers Chris Meledandri and Janet Healy announcing their intention to return, and the plan is for the sequel to be released in July 2018.
Your Daily Blend of Entertainment News