Disney's Live-Action Lion King Is Happening Sooner Than We Thought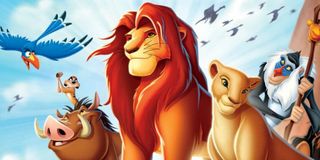 Jon Favreau stunned audiences (and the industry) when he revived Walt Disney's animated The Jungle Book earlier this year as a photorealistic, live-action-looking family adventure that enthralled and delighted crowds to the tune of $966 million worldwide. A sequel was confirmed, and many believed it would be Favreau's next film, as these movies don't come together quickly. Then, however, Disney dropped a second bombshell, announcing that Favreau would turn his attention to a live-action Lion King adaptation, as well. Which would come first?
During a press day to help promote The Jungle Book, I was lucky enough to speak with two-time Oscar winner Robert Legato, visual effects supervisor on The Jungle Book, whose credits also include Avatar, Titanic, and Hugo. I specifically asked Legato if he was going to follow Jon Favreau over to The Lion King and if it would happen before The Jungle Book 2. He told us:
In a way, according to Legato, the process of doing The Jungle Book proved that The Lion King was possible in live action, because, as he points out, the one human actor from Jungle Book, Neel Sethi (Mowgli) only appears in half of the movie. There are whole scenes staged with only the animal characters, which still held the audience's interests. They work, as Legato points out, without having a human character to bounce off of.
This convinced Robert Legato and, by extension, Disney and Jon Favreau, that a live-action The Lion King is possible, and his comments today prove that this movie will happen BEFORE The Jungle Book 2. As Legato explained to me:
We don't know exactly WHEN Walt Disney's live-action The Lion King will reach theaters, but I'm betting that the process perfected on The Jungle Book will make for a speedier (though not lightning fast) production. We know that Beauty and the Beast is opening on March 17, 2017. The studio has Mulan dated for November 2, 2018. And they have numerous release dates circled for untitled projects. But based on this new news, Jon Favreau's The Lion King will take precedent over The Jungle Book 2. Are you happy about that?
Movie junkie. Infatuated with comic-book films. ReelBlend cohost. Resident dad. Extroverted introvert. Wants to see the Snyder Cut. Managing Director at CinemaBlend.