Weekend Box Office: Hidden Figures Repeats At Number One, La La Land Gets Awards Boost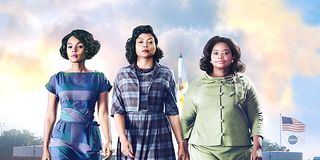 If you've ever wondered how weekend box office performance can be reported on Sunday, before the weekend is even over, you might be interested to know that numbers are based on studio estimates which are updated on Monday. Most of the time those numbers are reasonably accurate, but from time to time top movies are close in sales and what was estimated to be true on Sunday changes by Monday.
Such was the case last weekend when it turned out Hidden Figures ended up out selling Rogue One to be the number one movie. This weekend it remained on top for the second weekend in a row, and by a solid enough margin that it won't be changing Monday. The historical NASA drama added $20 million, down just 10% from last weekend.
Following it's record breaking sweep of the Golden Globe awards last weekend, La La Land enjoyed a hefty boost banking $14 million, up almost 45% from last weekend, to take the second place spot. That could put the movie in a place to break $100 million before its run is out, no small achievement for these kinds of non-blockbuster award winners.
Rogue One rocketed past Finding Dory to become 2016's highest domestic grossing film, but fell just a couple of million short of hitting $500 million. It's now the second highest grossing Star Wars movie (not adjusted for inflation), behind last year's Episode VII and it's near-$1 billion domestic total.
There were three new movies in the top ten this Martin Luther King Jr. holiday weekend, but none generated particular excitement. Horror flick The Bye Bye Man fared the best, earning $13 million got a fifth place debut. Bizarre action comedy Monster Trucks took in $10 million for a seventh place start, and Jamie Foxx' latest offering, crime drama Sleepless, settled for a weak $8 million eighth place opening.
For the full weekend top ten, check out the chart below:
Your Daily Blend of Entertainment News
Thank you for signing up to CinemaBlend. You will receive a verification email shortly.
There was a problem. Please refresh the page and try again.