Who Should Replace Ben Affleck On The Solo Batman Movie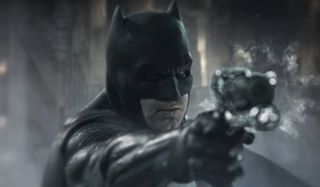 Things aren't going as swimmingly behind the scenes of the DC Extended Universe as any fan would hope. Much like both Wonder Woman and The Flash before it, the upcoming solo Batman movie is losing the filmmaker who was originally supposed to take the helm, a.k.a. Ben Affleck. As a result, the search is on to find someone to replace the man behind the camera. The big question, naturally, is in regards to who the substitute director will be.
Below and on the next few pages, we've plucked out a handful of directors who we would like to see get the opportunity to direct their own solo Batman film. Read our choices, and then hit the comments section below to tell us who you want to see get the job!
Matt Reeves
Let's start with the more likely names, shall we? When the report came out that Ben Affleck would no longer be directing the Batman film, Matt Reeves was one name that sprouted immediately as a potential replacement. And he would definitely be an exciting choice. He made his debut with the better-than-you-remember-it Cloverfield, and has since followed it up with two Planet of the Apes films (one being genius and the other coming out this summer). We certainly know he could handle the scale of the production -- the question is whether or not he would be up for the challenge after spending so long on his last two blockbuster features.
Matt Ross
Matt Ross was the second name that was immediately pitched out as Ben Affleck's potential successor, and it's certainly a choice that would raise a few eyebrows. Most people probably recognize Ross as the actor who plays the slime ball Gavin Belson on the hit HBO television series Silicon Valley, but last year he turned heads making the bizarre indie film Captain Fantastic -- which recently picked up an Academy Award nomination (Best Actor -- Viggo Mortensen). Given his background, he would be an odd pick for the Batman gig, but considering the fact that Captain Fantastic was one of the best films of last year, we would definitely support the call.
Joel Edgerton
Those of you who are only familiar with Joel Edgerton as an actor clearly slept on one of the best directorial debuts in recent years. In 2015 he hopped behind the camera to make his first feature with The Gift, and it's a tremendously well-crafted thriller that is surprising from start to finish. Like many of the other names on this list, taking the helm of the Batman solo movie would be his first experience behind something so massive -- but he's certainly has spent time on major productions, and would have a brilliant support system working with him.
Jeff Nichols
Those closely following the development of the DC Extended Universe know that Jeff Nichols has a tiny bit of history with the franchise. Back when things were starting to move and shake, his name was reportedly one that was in the mix to take the helm of the developing Aquaman feature. That gig eventually went to James Wan, but now we wonder if that was the movie gods' way of saving him for the Batman solo feature. With titles like Take Shelter and Loving on his resume we know that he is an amazing storyteller, and last year's Midnight Special even allowed him to dip his toe into a bit of sci-fi and spectacle. Depending on how the development of the Alien Nation remake is going, it's an idea that could pan out.
Jennifer Kent
It feels like it's only a matter of time before Jennifer Kent gets a chance to make a movie on a very large stage. With her directorial debut, The Babadook, she arguably created one of the most textured, emotional, and terrifying films ever made, and to carry over that feeling to a Batman blockbuster would potentially be amazing. Timing might be a factor, as she has most recently been actively developing a project called The Nightingale, but given that the new Dark Knight feature doesn't have a release date, perhaps she could find a way to make it work.
Karyn Kusama
There's no questioning that Karyn Kusama's career has been one of ups and downs. In 2000 she broke out in a huge way with Girlfight, but got tripped up a bit with the release of both Aeon Flux and Jennifer's Body (spending some time in "movie jail" as a result). She has since found her way back to notoriety with the 2015 thriller The Invitation and a good deal of TV work -- and the industry may be getting ready to give her another big title. Admittedly jumping on to a Batman film may be too quick a leap, but if she has a proper pitch, it would be cool to see her get the job.
Dan Gilroy
Nightcrawler was a film that seemingly came out of nowhere. Prior to 2014, writer/director Dan Gilroy's most notable work was the script for The Bourne Legacy, and the movie's title legitimately had some people wondering if it was about an X-Men character. Now, however, we know that Nightcrawler is one of the great neo-noirs and to expect great things from Dan Gilroy. Given what we've seen, we have to wonder what it would be like to put a Batman blockbuster in his hands, because it could be brilliant.
Drew Goddard
I have a personal policy. If a directing gig is open for an upcoming comic book movie, then I recommend Drew Goddard for the job. Hollywood has certainly trusted the man with the material before -- as he was the original showrunner for the Daredevil Netflix show and was going to direct the Spider-Man Sinister Six feature -- but he has never really had the chance to fully execute a vision. The solo Batman movie would be an amazing way to follow up his genius 2012 debut, the cult hit The Cabin In The Woods, and it would certainly make a lot of knowledgeably fans happy.
Ana Lily Amirpour
Ana Lily-Amirpour is another exciting filmmaker who broke out with a terrific 2014 - specifically the vampire horror movie A Girl Walks Home Alone At Night -- and she seems poised for big success. Admittedly her follow-up, the star-studded cannibal romance The Bad Batch, has received a mix response on the festival circuit, but our confidence in her style still makes us wonder what she could possibly do with a big screen Batman story bent to her sensibilities. Her schedule appears to be open at the moment, so now would be the perfect time to get her on board.
Denis Villeneuve
Of all the names on this list, this is the one that would probably be called the "longshot." After all, the man not only just got his first Best Director Oscar nomination for Arrival, but is now set to take the helm of the new Dune adaptation once he's done with Blade Runner 2049. This probably means that his schedule wouldn't allow him to take on the Batman movie... but can you blame us for wanting him to do it? Every film Villeneuve has made is stunningly beautiful, and it would be amazing to see what he could do in collaboration with Ben Affleck and with a comic-inspired canvas. Even if he doesn't get this gig, we would hope that Warner Bros. would keep his number on speed dial for another upcoming DCEU project.
Your Daily Blend of Entertainment News
Assistant Managing Editor
NJ native who calls LA home and lives in a Dreamatorium. A decade-plus CinemaBlend veteran who is endlessly enthusiastic about the career he's dreamt of since seventh grade.
Your Daily Blend of Entertainment News
Thank you for signing up to CinemaBlend. You will receive a verification email shortly.
There was a problem. Please refresh the page and try again.