The Gruelling Training Schedule Chin Han Underwent For Ghost In The Shell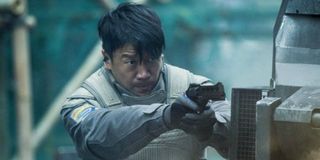 When you're cast in a blockbuster film you have to make sure that you're in peak physical condition. It's not just that you have to look the part, you also have to be able to convincingly jump through the proverbial cinematic hoops dozens of times a day without getting stitched up or holding up the shoot for a breather. Those involved in Ghost In The Shell went through a rigorous training schedule in order to be fully prepared for the film's big and bold stunts. In fact, its star Chin Han recently revealed that his training schedule actually unfolded over a seven month long period. Chin Han explained,
Chin Han made this admission to me when I spoke with the Singaporean actor on the day of Ghost In The Shell's release last week. Han, who previously popped up in The Dark Knight, 2012, Contagion, Captain America: The Winter Soldier, and Independence Day: Resurgence ahead of his role as Togusa in Ghost In The Shell, clearly worked tirelessly to not just get his body in the right shape for the sci-fi epic, but also so that he and his fellow members of Ghost In The Shell's Section 9 looked like a smooth military unit.
In the Ghost In The Shell scenes where Section 9 are deployed and then swiftly strut their stuff as lean mean killing machines you really get a sense of the training that each of the team underwent when preparing for the film. In fact, you can get a taste of Chin Han, Scarlett Johansson, Pilou Asbaek, and Takeshi Kitano's skills in Ghost In The Shell by watching the trailer below.
While Scarlett Johansson takes the lead role as The Major in Ghost In The Shell, who is a cyborg with a human brain inside her metallic skull that spends the most of the film searching for her identity in this world, Chin Han's Togusa is the only family man of Section 9, which also consists of Pilou Basek's Batou and is led by Takeshi Kitano's Chief Daisuke Aramaki. You still have an opportunity to see the results of their grueling training in action, as Ghost In The Shell was released just last weekend and is still in cinemas (opens in new tab) now.
Your Daily Blend of Entertainment News
Thank you for signing up to CinemaBlend. You will receive a verification email shortly.
There was a problem. Please refresh the page and try again.