The 10 Most Disappointing Movies Of 2017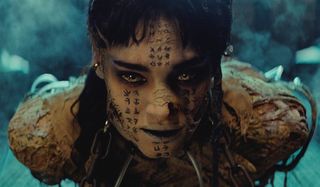 We're almost finished with 2017, and as was the case in 2016 and every other year that movies have been screened, the cinematic offerings were mixed. There were certainly quite a few successes, from the award contenders to excellent horror fare. But on the other end of the spectrum are the disappointments; the movies that we hoped would be enjoyable, but ultimately didn't meet or exceed our expectations.
While not all of the movies on this list (which are listed in order of release) could be considered critical disasters overall, they nonetheless failed to live up to their box office potential during their time in theaters. Starting off, let's look at a movie that was intended to revitalize a franchise that was at the height of its popularity on TV in the 1990s.
Power Rangers
Like most reboots, Power Rangers had to appeal to longtime fans of the property and newcomers who knew little to nothing about the teenagers with attitude. While the movie is by no means a train wreck, as it does have decent character moments peppered throughout, it failed to be the contemporary Power Rangers movie many were hoping for. From instances of off-putting humor to few action scenes with the characters actually morphed, Power Rangers felt uneven and didn't feel like a worthy successor to Mighty Morphin' Power Rangers. Given the mixed critical reaction and poor box office performance, it's less likely (but not impossible) we'll get Power Rangers 2 and the introduction of the Tommy Oliver Green Ranger.
Ghost In The Shell
Ghost in the Shell was already facing backlash ahead of its release for casting Scarlett Johansson as The Major, but upon hitting theaters, moviegoers soon learned there were other issues present. Visually, Ghost in the Shell was a treat, capturing much of the same imagery from the original manga and animated film. Regardless, in almost every other area, it failed to deliver, be it because the plot was too convoluted or it simply didn't honor the source material close enough. Few American adaptations of manga and anime stories have been successful, and we can add Ghost in the Shell to the ever-growing list of ones that weren't.
King Arthur: Legend Of The Sword
Following the Sherlock Holmes movies and The Man from U.N.C.L.E., director Guy Ritchie decided to once again put his own spin on an existing property/lore. This time the subject was King Arthur, and after several delays, The Legend of the Sword finally hit theaters in May 2017, to little acclaim and box office fanfare. Although the latest King Arthur flick was packed with action (as one would hope), that didn't make up for the movie's uneven tone, proving that just because something is updated and feels more contemporary doesn't make it better. King Arthur: Legend of the Sword also only made $143 million globally, so it's safe to say that there won't be any follow-ups.
Alien: Covenant
Director Ridley Scott's return to the Alien franchise in 2012 with Prometheus drew polarizing reactions, much of which stemmed from how the prequel was distanced from the original mythology. So for Alien: Covenant, Scott attempted to have the best of both worlds by combining the seeds he'd laid in Prometheus with that classic Alien lore, and the results were less than satisfying. As a sci-fi movie by itself, Alien: Covenant is decent, but as the latest Alien entry, the story fails to be the breath of fresh air that this series needs, mainly due to its underwhelming story. The movie also underperformed at the box office, making only a little over $240 million worldwide. Scott is already working on Alien: Covenant 2, so maybe the third time's the charm?
Pirates Of The Caribbean: Dead Men Tell No Tales
While the first Pirates of the Caribbean movie was met with praise, its successors have been met with more mixed to negative reactions, and there was hope that Dead Men Tell No Tales might finally be the installment that revitalized this series. While its commercial performance was satisfactory, like On Stranger Tides six years before, Dead Men Tell No Tales failed to impress critically. Despite being helmed by new directors and having Javier Bardem playing the main antagonist, the fifth Pirates of the Caribbean entry was all flash and little substance, proving once more that sometimes it's best to let certain franchises die off rather than keep them going with mediocre follow-ups.
The Mummy
The Mummy is a great example of how you shouldn't start building a cinematic universe until releasing at least one good movie that can stand on its own first. Not nearly as entertaining as the Brendan Frasier Mummy movies (well, the first two, anyway), the Tom Cruise and Sofia Boutella-led Mummy reboot not only did a disservice to the legacy of The Mummy and the Universal Monsters as a whole, it was also just a poor excuse for an action movie. It was more concerned with laying the groundwork for the Dark Universe rather than telling a compelling story. As a result, not only was The Mummy a bomb both critically and commercially, but the Dark Universe may be dead on arrival.
Valerian And The City Of A Thousand Planets
This year director Luc Besson finally delivered the Valerian cinematic adaptation that he'd been tinkering with ever since working on The Fifth Element. Sparing no expense, Valerian And The City Of A Thousand Planets was visually staggering and captured the feel of the source material well. However, on the story side of things, the Valerian movie was less satisfying, feeling muddled and overcrowded. Throw in that it only made $225 million worldwide, and it doesn't seem likely that we'll be re-exploring this colorful universe on the big screen again.
The Dark Tower
The Dark Tower series is arguably Stephen King's most popular non-horror property, and for a decade fans waited for the theatrical adaptation to arrive. Sadly, the movie didn't do justice to the original novels. At only 95 minutes long, there wasn't enough time to properly explore the mythology King built on the printed page, and Idris Elba and Matthew McConaughey's involvement weren't enough to save this movie from being disjointed and a pale reflection of the books that had come before. The Dark Tower saga may be better suited to be adapted as a television series, so let's hope that project one day gets off the ground to make up for the Dark Tower movie.
Suburbicon
You'd think that a murder mystery movie written by the Coen Brothers, directed by George Clooney and starring Matt Damon would at least make for an interesting fall theatrical experience, right? Well, Suburbicon wasn't that by any stretch of the imagination. This is one of those movies that suffers from lack of identity, and it's hard to pinpoint whether it was trying to be a satirical comedy, provide meaningful social commentary, etc. Rather than being an awards contender, Suburbicon was just a bust on all levels, and it only made $9 million off a $25 million budget.
Justice League
While Justice League wasn't quite as critically polarizing as the likes of Batman v Superman: Dawn of Justice and Suicide Squad, it also failed to keep the wave of goodwill flowing that Wonder Woman provided earlier in the year. Although the DC team-up movie did have some nice character moments, it was also plagued with numerous other issues, from a messy story to an inferior CGI villain. It's worth noting that some of Justice League's problems stemmed from unforeseen behind-the-scenes predicaments, but regardless, the end result wasn't the Justice League movie fans deserved. The DCEU will still go on, but it remains to be seen if a Justice League sequel will move forward.
This poll is no longer available.
Your Daily Blend of Entertainment News
Connoisseur of Marvel, DC, Star Wars, John Wick, MonsterVerse and Doctor Who lore. He's aware he looks like Harry Potter and Clark Kent.
Your Daily Blend of Entertainment News
Thank you for signing up to CinemaBlend. You will receive a verification email shortly.
There was a problem. Please refresh the page and try again.