Could Anime Adaptations Succeed Where Video Game Movies Have Failed?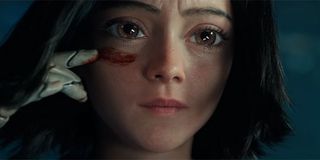 As of this past May, it has officially been 26 years since Super Mario Bros. the first and most notorious of video game movie adaptations, was released. These kind of cinematic adaptations have improved since then, with some films even achieving the status of 'watchable'. However, the genre has moved with anything but Sonic-like speed. Now, over a quarter century since that ignominious start, the video game movie genre has yet to produce a truly great film, and the video game movie age long heralded has yet to arrive.
While the reasons video game movies have failed are myriad, it should not be a mystery to anyone why Hollywood keeps trying to make them. Take a look at the release calendar and you'll find that the modern box office is driven by remakes, sequels and franchises. What they all have in common is recognizable IP. In a Hollywood gun-shy about taking chances on original films and a moviegoing public seemingly uninterested in them, the most valuable commodity and the safest bet is movies based on existing intellectual property.
The video game industry is full of such intellectual property, popular titles and characters in an industry with a net worth of $131 billion and growing. Given the popularity and visibility of various video game titles, it is no wonder that Hollywood keeps trying to make video game adaptations happen, the hope being that they could be the new blockbuster cash cow, succeeding or existing alongside our current comic book movie age.
In spite of that hope, and at least a few valiant attempts, that hasn't happened. But where video game movies have failed, another genre may succeed. There are some positive recent signs that anime adaptations could provide the fuel to Hollywood's IP-driven machine to become the next breakout blockbusters.
Now it should first be noted that unlike video games, anime is natively cinematic storytelling, and plenty of anime films have already been financially successful. Films like Spirited Away, Pokemon: The First Movie and Your Name have all found huge success either domestically or abroad. But live-action Hollywood blockbusters are still a largely undiscovered country for the Japanese art form.
That isn't to say that Hollywood hasn't tried, but like video game adaptations, a lot has been lost in translation with some of the attempts. There are the old low-budget films like Fist of the North Star and The Guyver (with Mark Hamill!), which are probably unwatchable through modern eyes. Then there are more recent failures, like Netflix's Death Note and Ghost in the Shell, which on top of whitewashing concerns, committed the cardinal sin of not being any good.
And of course we can't forget to mention the two adaptations that are to anime adaptations what Super Mario Bros. is to video game movies: Dragonball Evolution and The Last Airbender. I know Avatar: The Last Airbender might not qualify as 'true anime' to purists, but to the laymen, it might as well be. These are two of the most loathed films ever made among certain fandoms and a poor representation of their source materials.
The tide may be beginning to turn though. Earlier this year Alita: Battle Angel, based on Yukito Kishiro's manga, which was also adapted into a two-episode anime, made $404.8 million worldwide. While that almost certainly fell short of profitability for the expensive film, it still bests all but the most successful video game movies and has inspired a highly passionate fanbase, even though critics were lukewarm on it at best. So it wasn't an outright failure.
Alita's performance isn't the only possible sign that the market might be ripe for more blockbuster anime adaptations. Anecdotally, anime seems to be more mainstream than it used to be. Like comic book characters and much of geek culture, anime fandom is no longer uncool and is now just another beloved facet of our pop culture tapestry.
Netflix has invested heavily in anime and it wouldn't be doing that if there weren't financial imperative to do so. The premiere of the iconic Neon Genesis Evangelion series on Netflix in June brought with it coverage from across the media landscape (and a little bit of controversy), including publications like The Washington Post and The New Yorker.
While Pokémon falls into both the video game and anime realms (it's more video game), the relative success of Detective Pikachu is also a good sign that audiences will buy in to these weird worlds. Also earlier this year, the animated film Dragon Ball Super: Broly was a surprising success, earning $30.7 million domestic and $114.1 million worldwide. These all add up to a marketplace where there is demand and at least some clear willingness to engage with anime content.
That anime content will be coming courtesy of some impressive talent. Alita was the work of director Robert Rodriguez and producer James Cameron, and attaching big name talent to future anime adaptations seems to be the tack that Hollywood is taking with future efforts, which provide hope that anime adaptations have a bright future ahead of them.
News broke last year that Sunrise and Legendary Entertainment are partnering to bring Gundam to the big screen. Then earlier this year came the news that famed comic book writer Brian K. Vaughan has signed on to pen the screenplay for the live-action adaptation of the mecha anime franchise. When it comes to valuable IP, Hollywood could certainly do worse than Gundam.
Mobile Suit Gundam first premiered 40 years ago and in the decades since it has spawned many anime series, movies, manga, novels and toys (merchandising=$$$). The franchise has generated billions over the decades, and because there is no single Gundam story, Legendary's film can still bear the name and be an entirely new narrative without risking claims of not being faithful. Big robots fighting may not be as popular domestically as abroad, but Gundam has more cultural cachet than something like Pacific Rim and with Brian K. Vaughan writing, it might actually be good.
Then there is Attack on Titan. The hugely popular and highly acclaimed anime series, based on Hajime Isayama's best-selling manga, will come to an end after its fourth season next year, but Warner Bros. is hoping it is just the beginning for the property with a live-action adaptation (there was a live-action Japanese adaptation in 2015).
IT director Andy Muschietti has been tapped to direct Attack on Titan for Warner Bros., although his recent hiring to direct DC's The Flash throws things into question. Warner Bros. is reportedly hoping to have The Flash in prep by January 2020, so assuming Andy Muschietti is still doing Attack on Titan, and there have been no reports to the contrary, he could tackle that after.
Following IT's wild success and with this September's IT Chapter 2 also looking to be a smash hit, Warner Bros. should have a great relationship with Andy Muschietti, and if he still wants Attack on Titan, he should get it. The series is inherently cinematic, very popular and Muschietti seems like the right guy to bring the friendships and the horror critical to the series to the big screen.
Andy Muschietti has also been attached to a live-action Robotech so clearly the director has interest in anime properties, but with so much on his plate we haven't heard much about this one in a while.
That's not all. There is also Your Name. from Paramount and Bad Robot. The Amazing Spider-Man and 500 Days of Summer director Marc Webb is signed on to direct the remake of the wildly successful romantic fantasy drama anime from 2016. Legendary is also producing a live-action feature film based on the My Hero Academia manga/anime, according to THR. Even on the TV side there's a live-action series for Avatar: The Last Airbender and Cowboy Bebop starring John Cho both coming to Netflix.
Then there's Akira. Up until this week, Thor: Ragnarok director Taika Waititi was attached to adapt Katuhiro Ôtomo's seminal 1988 film, but now he is doing Thor 4 and Akira is on hold indefinitely. It's another blow for a movie that can't seem to escape development hell, but there is hope that Taika Waititi will return to the project once he's done with his Marvel flick.
There are no guarantees that any of these anime adaptations will work. As video game adaptations have shown, good intent can only take you so far and lots of anime properties could have some real accessibility issues for wider audiences with stuff that just doesn't translate.
Not to mention that these IPs won't be nearly as recognizable to general audiences as something like Halo would be. So there is plenty of reason to be skeptical that anime adaptations will succeed in the unforgiving blockbuster arena. But unlike video game adaptations, these stories have all at least been proven in film or television formats.
I'm sure many will say that they would rather Hollywood not ruin their favorite anime with live-action adaptations, but when has that ever stopped the industry from capitalizing on existing IP? Japan's anime industry is worth $19 billion, a pittance compared to the video game industry's $131 billion but far from chump change. These are valuable properties that people care about and studios can't and won't ignore that in the IP arms race.
The technology is finally at a point where it can do many of these grand, fantastical stories justice in live-action. And we should be excited that Hollywood seems to be attaching talented people who care about the properties to its upcoming anime projects.
As we've seen with video game movies, that is no guarantee of success, but it's worth a shot and reading the tea leaves it seems like Hollywood and the market is more ready than it's ever been for a real push of anime adaptations. I'm not saying they will replace or be as successful as the interconnected world of superhero movies, but in a stale blockbuster marketplace, maybe anime could provide something new and different while still having a built-in audience.
Now can we please get a proper Dragon Ball movie?
Check out our premiere guide to see what's headed to theaters this year and stay tuned to CinemaBlend for all your movie news.
Nick grew up in Maryland has degrees in Film Studies and Communications. His life goal is to walk the earth, meet people and get into adventures. He's also still looking for The Adventures of Pete and Pete season 3 on DVD if anyone has a lead.
Your Daily Blend of Entertainment News
Thank you for signing up to CinemaBlend. You will receive a verification email shortly.
There was a problem. Please refresh the page and try again.