The 10 Best Songs From Superhero Soundtracks, Ranked By Greatness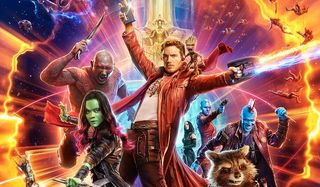 Starting around the mid 1980's, but really flourishing throughout the 1990's, the art of the superhero soundtrack single was in full effect. Brand synergy could land you a hit movie, a chart-topping single, and even a best-selling album, if you played your cards right. But, moving into the mid to late Aughts, this became one of those traditions to die out almost completely. Which means that since we've seen a rising tide of 90's nostalgia, this tradition is bound to be revived at any moment.
We've already seen it coming back with films like The Amazing Spider-Man 2, and most recently, Guardians of the Galaxy Vol. 2, with both of those films cranking out tie-in singles that helped push the films they represent. And if we're going to go ahead and revisit this practice, it's probably a good thing to keep in mind just what makes a tie-in single work.
Operating in that context, we'd like to now present the 10 best solid gold superhero hit singles, in order of their greatness.
10. 'Ninja Rap' -- Teenage Mutant Ninja Turtles II: The Secret Of The Ooze
It's a song so popular, it transcended the fact that Vanilla Ice was the guy singing it to become a timeless classic. "Ninja Rap" is the bottom of the heap here, because while it's a song that still plays to a certain extent, it does so on a nostalgic novelty level. Still, despite Ice's corny rapping, and the pretty simple beat, it's hard not to get caught up in the cries of "Go ninja, go ninja, go!" once they really get started. Just ask David Warner.
9. 'Howard The Duck' -- Howard The Duck
This isn't going to be the only case of a good song being attached to a real turkey of a movie, so bear with us here. Howard The Duck, the movie, is something that can only be enjoyed with a heavy dose of irony and/or disconnection from reality. But "Howard The Duck," the single with Lea Thompson on vocals and a special guest appearance by 80's god of eccentricity Thomas Dolby, is one hell of a jam. Though in the end, it's still a bit disturbing as we're still celebrating the coupling of a lady and a weird looking duck-like being at the end of the day.
8. 'Guardians Inferno' -- Guardians of the Galaxy Vol. 2
David Hasselhoff is an easy shortcut to invoking a vibe of 70's / 80's cheese, which is why "Guardians Inferno" is probably the only possible single that could have come out of Guardians of the Galaxy Vol. 2. Yes, the lyrics are awkward, and full of face value references to stuff from the Marvel Studios film. But between the Meco-ized version of the Guardians of the Galaxy theme, and The Hoff's confident sale of said lyrics, it's undeniably a fun time. Not to mention, it's a short enough listen that it doesn't outstay its welcome, keeping it moving from start to finish.
7. 'Long Hard Road Out Of Hell' -- Spawn
How the hell did we get a Marilyn Manson song as a superhero single? Well, when you consider that the film was 1997's Spawn, it starts to make a whole lot of sense. While it kind of operates better as a straight up Manson tune than a melody highlighting the journey of our hellbound hero, it's a song that still holds up. It's clearly a product of its time, but "Long Hard Road Out of Hell" really holds up, much like a lot of Marilyn Manson's back-catalog. Someone should see if this sort of magic can be replicated for the reboot.
6. 'Hold Me, Thrill Me, Kiss Me, Kill Me' -- Batman Forever
U2 has had a career that's as long as it is diverse, and no period of their discography is more discussed than the mid 90's run that can be summed up in one word: "Pop." Batman Forever's soundtrack would be the album that would usher in this particular stretch of the U2 legacy, as "Hold Me, Thrill Me, Kiss Me, Kill Me" introduced the world to this new incarnation of the rock sensation. And not only was it a hell of a single to return to the fold with, it matched perfectly to the nature of the Joel Schumacher film it was paired up to.
5. 'Hero' -- Spider-Man
Mark this occasion: we're actually going to praise Chad Kroger for something here. "Hero," a song off of the 2002 Spider-Man film's soundtrack, actually puts the Nickelback frontman's voice to good use. With a superhero film that wore its heart on its sleeve so prominently, you'd swear the costume was colored Red to hide it, you need a big anthem to pump up that concept properly. Not only did we get that with Danny Elfman's gorgeous orchestral theme, we also got that with this pop gem that convinced us of the heart that Peter Parker possessed.
4. 'It's On Again' -- The Amazing Spider-Man 2
Spider-Man saw the beginning of the end for the era of pop single tie-ins, so it was only fair that the first real big push back to that era was seen with Marc Webb's The Amazing Spider-Man 2. Nowhere was that more apparent with "It's On Again," a song that mashed Alicia Keys, Kendrick Lamar, and Hans Zimmer into the same musical room, only to hash out what's basically the modern equivalent to "Hero." While Chad Kroger's single was more of a ballad that showed the bittersweet nature of a hero, this super collaboration reinvented the superhero grind as a hustle. And it's a damned fine hustle at that.
3. 'The End Is The Beginning Is The End' -- Batman & Robin
Here we go again, with a fantastic song that comes from a pretty lackluster film. In fact, the entire Batman & Robin soundtrack screams that message out to the winds, as Bone-Thugs-N-Harmony, R. Kelly, and REM, among others, contributed tracks to an album much better than the film it represented. But the real cherry on the cake came from The Smashing Pumpkins, as their track "The End Is The Beginning Is The End" came out of the gates rocking harder than anything on that playlist. Bonus points issued for the music video that went along with the song, as it promised a better concept for a Batman film that could, and should, have happened, rather than the movie we ended up getting.
2. 'Batdance' -- Batman
No one could have imagined that 1989's Batman would have been the real progenitor for the comic book movement that would follow. In the same vein, who would have thought that Prince would have created an entire album's worth of hit-worthy singles that explore the world of Tim Burton's Gotham City, as well as the psyches of the various characters in the classic film. Every theme, every song, is represented in the album's climactic closer, "Batdance," and while it may sound kind of weird out of context, it really ties together all the songs that came before in one chaotic blast of a finale. Though please note, the version above is a cover, due to Prince's material being harder to find than most on YouTube. However, you can listen to the track on your favorite streaming services, like Spotify.
1. 'Kiss From A Rose' -- Batman Forever
We're here, folks; the top of the heap! And did you think any other superhero related sequel could have beat Seal's "Kiss From A Rose?" Batman Forever was the beginning of the really weird days for the Batman series, and yet a pseudo-medieval love ballad was not only a chart topping success, it's the epitome of what a superhero single should be. Remove the Batman context, forget the music video centered on a bare chested Seal in front of the Batsignal, and you've got a song that works purely on its own merits.
Your Daily Blend of Entertainment News
Senior Movies Contributor
CinemaBlend's James Bond (expert). Also versed in Large Scale Aggressors, time travel, and Guillermo del Toro. He fights for The User.
Your Daily Blend of Entertainment News
Thank you for signing up to CinemaBlend. You will receive a verification email shortly.
There was a problem. Please refresh the page and try again.