The One Movie Guillermo Del Toro Regrets Not Doing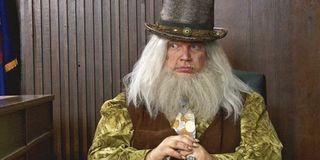 Guillermo del Toro has made a lot of movies over the years, but he recently stated that he has a stack of manuscripts that never actually made it to fruition on the big screen. Despite this reveal, he doesn't have a lot of regrets related to his career. However, del Toro did say that there is one movie project he passed on that he does regret: Harry Potter. He noted:
The Annecy Festival is the first time that Guillermo del Toro has spoken publicly about being offered one of the major Harry Potter flicks, and while he didn't elaborate on which movie it was that he was offered. The rumor mill has in the past stated that del Toro was in the running for the third film in the franchise, Harry Potter and the Prisoner of Azkaban. Those familiar with the franchise know the third book is when the story takes an even more serious turn, getting into how Azkaban works and introducing new character Sirius Black. With Guillermo del Toro in charge, the horror aspects in that particular book would have likely been amplified on the big screen, but it wasn't to be. Del Toro's pal Alfonso Cuaron eventually took the reins on the film.
At the Annecy Festival, Guillermo del Toro spoke out about quite a few topics, and most of them didn't really focus on what the director regrets doing but what he has done. As he noted later during the lengthy Q&A, filmmakers can't leave behind the ideas that never made it to the masses. They aren't like painters or writers.
So, if an opportunity passes filmmakers by, it often doesn't come around again, as is the case with the Harry Potter movies. It's sort of the same idea with Hellboy 3, which is now likely to never see the light of day with Guillermo del Toro, Ron Perlman and co., as a reboot of the franchise is in the works. On the bright side, however, perhaps another project in J.K. Rowling's magical universe will one day present itself. In the meantime, you can catch Guillermo del Toro behind the camera on The Shape of Water and the upcoming Pinocchio remake.
I could probably sit there and listen to Guillermo del Toro talk. Now, you can too, as the full footage for the Annecy appearance is available online.
Your Daily Blend of Entertainment News
Reality TV fan with a pinch of Disney fairy dust thrown in. Theme park junkie. If you've created a rom-com I've probably watched it.
Your Daily Blend of Entertainment News
Thank you for signing up to CinemaBlend. You will receive a verification email shortly.
There was a problem. Please refresh the page and try again.