Looks Like AMC Theaters Is Going To Lose A Lot Of Money This Year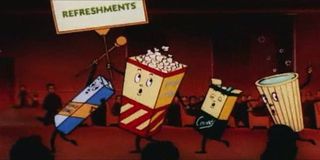 Over the past several years, movie theaters have done a lot to draw people in. Chains like AMC and Regal (and many others) have expanded to include comfier seats, better dining options and more amenities. Regardless, the changes may not end up being enough. This week, AMC posted an all-time low in the stock market, plummeting 26%. The company's stocks for 2017 are also at a pretty major low.
News broke this week that AMC's earnings for 2017 will not be profitable at all. In fact, right now the company is on pace to accrue a net loss of up to $150 million dollars by the end of the year. Best case scenario is the company will only lose $125 million. The new report notes that its not just revenue that AMC has been losing, but overall box office numbers. The theater chain has stated that the reason it is losing revenue is thanks poor attendance numbers, which means fewer people have gone to see movies in recent months. Couple that with the cost of adding amenities and the overall picture isn't super bright.
Summer is typically a big time for families to head to the movies, and the studios put out some of its biggest fodder during the summer months. While Wonder Woman was a huge success this summer and movies like Spider-Man: Homecoming, War For The Planet of the Apes and Dunkirk have all been successes, we've seen plenty of bombs, as well. Movies like The Mummy and King Arthur: Legend of the Sword fell after poor word of mouth and critical reviews, and it's been enough that AMC's revenue has dropped 4.4% this year. Even increased ticket prices have not been enough to make a change.
It's a trend that is becoming common for theater chains. According to the Nasdaq report citing AMC's earnings, it isn't the only theater chain with stock that is within the "sell" region. IMAX, Cinemark, Regal and more are also seeing revenue falling, despite the fact that box office receipts increased 1% in 2016, mostly thanks to a strong global market for movies.
The news is also coming when at-home viewing for recent film releases is a constant question. Several companies are trying to work out licenses so that movies can be streamed for home viewing more quickly, but there is a lot of pushback from people in the industry over that sort of arrangement. Many presume it would keep even more people from the theaters. And many directors still see theater screens as the ideal mediums for their work.
Clearly, there are a lot of changes happening in the entertainment industry, and not just with the film business. The way fans view TV is also changing. We'll be in a period of transition for a while, but hopefully theater viewing won't go away completely, as some movies truly are more exciting on a big screen. You can see what is coming to theaters soon with our full movies schedule.
Your Daily Blend of Entertainment News
Reality TV fan with a pinch of Disney fairy dust thrown in. Theme park junkie. If you've created a rom-com I've probably watched it.