AMC Movie Theaters Will Spend $600 Million To Make Seats More Comfy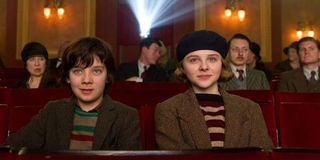 As someone who spends a disproportionate amount of my life in movie theaters, I've developed a special hatred for movie theater seats. Aside from the gum that might have blackened their upholstery or the soda that may have made them sticky, many of them are just downright uncomfortable. Well, AMC hears you (or me, I guess) and are making some major changes to give audiences wider, comfier, and reclining chairs.
The Wall Street Journal reports AMC Entertainment Holdings is planning a major remodel that will cost upwards of $600 million and bring fully reclining chairs to 1,800 of its nearly 5,000 auditoriums nationwide. And not just any old reclining chairs, these will be "La-Z-Boy-type seats."
With this move, AMC is changing its business model, playing to a smaller audience with a higher ticket price for a more luxurious theater experience. As one analyst explains it: "There are no more bodies coming through the door. So you have to find something to get them to come back more often or pay more." Basically, AMC is banking on moviegoers favoring quality over quantity. (On that end, they should also work on cracking down on phone use in theaters like Alamo Drafthouse does.)
These renovations have already begun in some AMC locations, and attendance in these venues has already increased by 80%, notably in midweek and mostly adult audiences, as opposed to teenagers. But don't expect to see cushy new La-Z-Boy-like loungers in every AMC market. This strategy is mostly being applied to AMC venues that have been struggling. Major markets like Los Angeles and New York, where theaters are more likely to host a high volume of moviegoers, are not expected to get this fancy makeover as it would mean less seats within a potentially high traffic venue.
Excuse me a moment.
Pressing on...
If you're like me, your first thought on reading this news might well be: 'It's going to cost them $600 million; then what's it going to cost me?' Well, the price of movie tickets will go up eventually. AMC estimates this will only bump their ticket prices up by $1-2 dollars, but only after a few years. First they want to hook you with those sweet sweet seats.
Part of that hike will be to pay for this renovation--projected to cost about $350,000 to $500,000 per auditorium--though landlords of this franchise will be shouldering some of that cost. The other part of the increased ticket fee will be to make up for the seats AMC will remove to allow for their new, more posh chairs. See, the old seats measure 44" across, while the new ones will be 60" inches across. This is expected to reduce seating capacity somewhere between 50 to 70%.
This poll is no longer available.
Your Daily Blend of Entertainment News
Staff writer at CinemaBlend.