2017 Superhero Movies, Ranked By Oscar Potential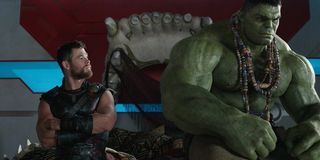 If you have kept up with the genre, then you likely already know that 2017 was a massive year for comic book movies. We saw the introduction of some great new heroes, the retirement of some older ones, some bonafide hits, and even a couple of disappointments. All in all, comic book movies had a moment this year, and the fans showed up for it.
Of course, now that every comic book movie of 2017 has officially debuted, it's time to dive in and discuss which of the superhero-themed films of the year deserve to go all the way when awards season rolls around -- as well as which categories they're most likely to win. With a lot of new Oscar voters added to the mix, the move to more populist Oscar picks may not be as far away as you'd guess. We have several films to get to on this list, so let's kick things off with the long-awaited reboot of a beloved kids' property.
8. Power Rangers
Possible Oscar Nominations: N/A
Considering the niche nature of the source material, Dean Israelite's Power Rangers actually proved itself as a surprisingly worthy reboot of the beloved kids' show. A tight, heartfelt origin story about a group of teenagers with attitude, Power Rangers was a generally fun time for audiences looking to go on an adventure. That said, it didn't provide much more beyond surface level thrills, and there wasn't really anything that Power Rangers did well that another 2017 superhero movie did better. As competently made as it is, we don't expect to see Power Rangers showing up at the Oscars in 2018.
7. Justice League
Possible Oscar Nominations: Best Costume Design
As the last major superhero movie to debut in 2017, Justice League hasn't received the warmest welcome from critics. It debuted to a mixed reception (although CinemaBlend's review skews favorably compared to others), and it doesn't surpass most of the other comic book movies from this year on storytelling or technical levels. However, there is one area in which Justice League excels: the costume designs. Michael Wilkinson created a distinctive visual motif for each character (as well as for the alter ego of each hero), and the suits worn by each Leaguer look great. If Justice League wins anything, it'll be for the costumes.
6. The LEGO Batman Movie
Possible Oscar Nominations: Best Animated Feature
Compared to other superhero films on this list, The LEGO Batman Movie finds itself in a bit of an interesting position. As an animated film, the lighthearted take on the Dark Knight's mythos arguably has a pretty easy shot at taking home the Best Animated Feature Oscar this year -- although it won't come without competition from films like Coco or The Big Bad Fox & Other Tales. However, beyond that, animated films often don't really contend at the Oscars when compared to their live-action brethren, which means The LEGO Batman Movie has the best shot of walking away with the award designed for its specific format.
5. Spider-Man: Homecoming
Possible Oscar Nominations: Best Sound Editing, Best Sound Mixing
Spider-Man: Homecoming is also in a unique position because, by the very nature of the franchise's constant reboots, it doesn't necessarily win points for originality. However, there are a number of technical awards that Homecoming could easily walk away with, and the most likely candidates are Sound Mixing and Sound Design. The film's sound effects (whether it's a boat ripping in half, Vulture's flight suit, or the sound of a Chitauri bomb going off), and the blending of those effects with the score, dialogue, and ADR dialogue is pretty seamless. Technical awards aren't the most glamorous, but these are two that Homecoming could easily win.
4. Thor: Ragnarok
Possible Oscar Nominations: Best Cinematography, Best Production Design
Although Thor: Ragnarok sometimes falters in the visual effects department (more on that category later), it more than makes up for some of its shortcomings by featuring some of the most absurdly beautiful camerawork and production design of any superhero movie to debut this year. Taking some ample inspiration from Jack Kirby, the film is chock full of iconic shots (such as the Hela vs Valkyrie flashback sequence and Thor's first encounter with Surtur, just to name a couple), and the craftsmanship involved in the creation of locales like Asgard, Sakaar, and even Doctor Strange's Sanctum Santorum is second to none.
3. Guardians of the Galaxy Vol. 2
Possible Oscar Nominations: Best Visual Effects, Best Makeup and Hairstyling
James Gunn's Guardians of the Galaxy Vol. 2 made a name for itself as an insanely fun sequel earlier this year and much of that fun stemmed from the film's jaw-dropped effects. From the explosive opening scene to Yondu's funeral (not to mention the de-aged Kurt Russell), the entire movie is a feast for the eyes and features some of the most impressive VFX work that we have seen in years. Then there's the hair and makeup effects used on characters like Gamora, Nebula, and Mantis, which would be hard for any film (comic book or otherwise) to beat this year.
2. Wonder Woman
Possible Oscar Nominations: Best Director, Best Original Score
Wonder Woman handily turned into a massive commercial smash this summer. Patty Jenkins delivered the most crowd-pleasing DCEU film to date with Diana Prince's origin story, and it just happens to also be an incredible film with well-constructed set pieces, excellent pacing, and a near-perfect emotional throughline. Monster took Patty Jenkins to the Oscars earlier in her career, but Wonder Woman could finally help her bring him the Best Director statue. Combine that with the fact that Rupert Gregson-Williams' score is likely the most iconic and booming original composition for a superhero movie in 2017, and there's ample room for Wonder Woman to walk away with some Oscar gold this year.
1. Logan
Possible Oscar Nominations: Best Actor in a Leading Role, Best Actor in a Supporting Role, Best Picture, Best Director, Best Adapted Screenplay
Arguably no comic book movie released in 2017 has become the subject of more Oscar talk and buzz than James Mangold's Logan, and rightfully so. The final Wolverine solo movie (at least with Hugh Jackman) sent the hero out on a jarringly effective emotional note, and it anchored its heart-wrenching story on the performances of Hugh Jackman and Patrick Stewart. Beyond all of that, James Mangold's unflinchingly brutal and well-constructed film home for a fraction of the cost of a typical superhero film, and told a tight story with a definite beginning, middle, and ending. If anything is going to win big, it could be Logan.
This poll is no longer available.
Your Daily Blend of Entertainment News
Originally from Connecticut, Conner grew up in San Diego and graduated from Chapman University in 2014. He now lives in Los Angeles working in and around the entertainment industry and can mostly be found binging horror movies and chugging coffee.