Coco Box Office: Pixar Triumphs But How Did Justice League Do?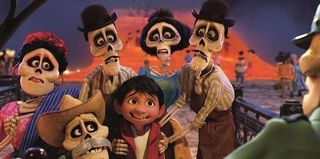 There are a few things in this industry that we can count on. One of them happens to be that when Pixar Animation Studios releases a new feature -- particularly around the Thanksgiving holiday -- it lands at No. 1 on the box office charts. Coco becomes the latest Pixar feature to lead the way, and it topped Justice League in its second weekend to get there.
There are two numbers to discuss regarding Coco, Lee Unkrich's exploration of the Mexican Day of the Dead holiday. For starters, the animated feature notched $49 million in its three-day haul, which is a modest run for a Pixar movie. Back in 2015, The Good Dinosaur banked $39.1M in the same time frame, though in 2004, The Incredibles was a November opening that took home $70.4 million.
But because this was the extended Thanksgiving holiday week, Coco got a head start on its weekend run, opening on Wednesday and allowing Pixar to added a few more bucks to the bottom line. For the estimated five-day haul, Coco is walking away with $71.1 million domestically. It's good enough for the fourth-highest 5-day Thanksgiving weekend opening, behind only Toy Story 2 ($80.1M), Moana ($82M) and the juggernaut that was Frozen ($93.5M) in 2013.
What of the other juggernaut on the box office chart? Eyes were on Zack Snyder's Justice League in its second weekend, to see how much of the initial audience that the DC superhero ensemble could hold on to. And the answer is an estimated 56% drop -- large, but not historic -- to equal a $40.7 million weekend. That pushes Justice League's box to $171.5 million domestically after two weeks.
Warner Bros. likely was hoping for a better performance in the States by Snyder's film, which teamed up Batman (Ben Affleck), Superman (Henry Cavill), Wonder Woman (Gal Gadot), Aquaman (Jason Momoa), the Flash (Ezra Miller) and Cyborg (Ray Fisher) for the very first time on screen. But so far, the international box office is bailing Justice League out. This weekend, it crossed the $300M mark in foreign ticket sales, so its overall cume is now at $481.3M. So far, none of the DCEU movies have been able to cross the $1 billion mark at the box, and I'm not sure if Justice League will get there.
Audiences this Thanksgiving weekend also flocked to Wonder, the heartwarming crowd-please that stars Jacob Tremblay, Julia Roberts and Owen Wilson in the adaptation of a story about a middle-schooler with facial deformities. Marvel's Thor: Ragnarok continues to perform well, pushing its overall cume to $277M, making it the highest-grossing Thor movie in the MCU. And Denzel Washington's legal drama Roman J. Israel Esq. rolls into the Top 10 with an expansion.
Movie junkie. Infatuated with comic-book films. ReelBlend cohost. Resident dad. Extroverted introvert. Wants to see the Snyder Cut. Managing Director at CinemaBlend.
Your Daily Blend of Entertainment News
Thank you for signing up to CinemaBlend. You will receive a verification email shortly.
There was a problem. Please refresh the page and try again.