Check Out Margot Robbie Teaming Up With Tonya Harding At The I, Tonya Premiere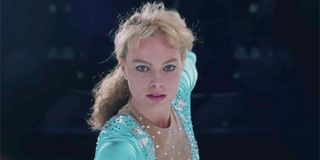 There are a lot of iconic Hollywood photos out there in the universe. Momentous moments like Marilyn Monroe in her white dress, or even Ellen DeGeneres surrounded by celebrities at the Oscars. This week we got another one of those memorable moments, when Margot Robbie, star of I, Tonya, showed up to the premiere of her movie with none other than the real Tonya Harding. It was movie magic and history colliding into one cool portrait. You can take a look, below.
Photogs at the I, Tonya premiere, including this one from Neon, show that the former figure skater and the actress who portrays the former figure skater look to be having a blast. They both also opted for slinky looks for the night out---although I will say most movie theaters are pretty cold inside, so kudos to dealing with the gooseflesh. (Although I guess both ladies are pretty used to cold settings like skating rinks by now.) Margot Robbie, who formerly met the famous figure skater, also reportedly called the encounter, "amazing."
Tonya Harding is an intriguing figure. She grew up in a troubled home with a mother who worked to make Tonya's ice skating dream come true, but who could be hard on her and abusive. Still, she began climbing the ranks in the iceskating world in the mid-eighties and became the first woman to complete a triple axel in a short program, also dominating some other triple axel records in the early nineties. Regardless, most people remember her for an attack on fellow competitor Nancy Kerrigan by Shane Stant, who was reportedly hired by Tonya Harding and her camp.
It's the latter story that I, Tonya will also explore. It's a story of who Tonya Harding really believed she was at that time alongside a story of what happened, and if you've seen the trailer for the new movie, you may already know it takes on an interesting perspective. It's certainly given Tonya Harding a higher profile again, as well. If you haven't seen the trailer yet, be sure to take a look, below.
This holiday season, there are a few blockbusters and a ton of awards hopefuls coming out, I, Tonya among them. Early reviews for the upcoming ice skating flick have been pretty positive, plus the movie actually opens this weekend, on December 8, so if the theater was in your plans, consider checking this one out. To find out what else is hitting theaters during the holidays, take a look at our full movies guide.
Amazing Race & Top Chef superfan with a pinch of Disney fairy dust thrown in. If you've created a rom-com I've probably watched it.
Your Daily Blend of Entertainment News
Thank you for signing up to CinemaBlend. You will receive a verification email shortly.
There was a problem. Please refresh the page and try again.