12 Strong – Discuss And Rate With Spoilers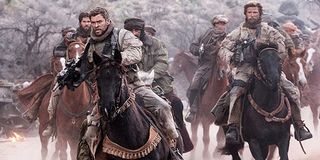 The heroism of the war fighter has been captured time and time again on the big screen, and 12 Strong is the latest project to cover the efforts of the Armed Forces in the days after the devastating attacks on 9/11. Starring Chris Hemsworth, Michael Shannon, and Trevante Rhodes, the film tells the recently declassified true story of our nation's first retaliatory action in Afghanistan after the collapse of the Twin Towers, With the guidance of local guerrilla forces, and the usage of horses as their primary mode of transportation, the fight ahead would be perilous, but prove to be crucial in American military actions against the Taliban.
But is the film any good? Well, that's what we're here to discuss, as we'll be encouraging you, the readers, to rate and discuss 12 Strong in the comments below. And naturally, as a baseline for the discussion ahead, we like to dip back into what our official review for the film. In the case of this week's film, our own Eric Eisenberg gave the film three stars out of five, with his review being summed up as follows:
From the sound of that statement, it looks like 12 Strong fits a similar mold as other modern military dramas such as Lone Survivor and American Sniper. This could be a good thing for producer Jerry Bruckheimer's latest film, as both were box office smashes in their early year release windows. Though if the recent market analysis is any indication, Jumanji: Welcome to the Jungle might maintain its impressive, sustained lead over the box office.
With that in mind, we'd like to hear what you have to say in the comments section below, keeping in mind the following discussion questions:
On top of those questions to keep in mind during the discussion of 12 Strong, we have some interesting coverage to read from our set visit and subsequent interviews with members of the cast. For instance, you can read about how Chris Hemsworth booked himself in the lead for 12 Strong, thinking it'd be a break from the sort of action he sees in the Marvel Cinematic Universe. He was wrong! Also, during our visit to the film's set, we got to talk with legendary producer Jerry Bruckheimer himself, and asked him how this film is different from his usual compliment of films. These, and other stories, can be found on our official 12 Strong preview page, so check that out if you're looking for more coverage.
And now, it's time for the rating portion of our show. With the numerical scale below, please rate how well you enjoyed 12 Strong. Feel free to tell us how you rated, and why, in any comments you'll have at the end.
This poll is no longer available.
Before we head out of this weekend's Rate and Discuss, there's an interesting bit of trivia for 12 Strong. Now everyone's heard of method acting, but in the case of two of the film's cast members, that term has been taken to a whole new level, as they have some real life experience with the roles they play. Playing the wife of Chris Hemsworth's lead, Capt. Mitch Nelson, is none other Hemsworth's actual wife, former Fast & Furious cast member Elsa Pataky, and in the role of his former real-life commanding officer, Col. Max Bowers, is warfighter turned actor Rob Riggle. And with that, we turn the discussion to you, the audience. Stay tuned to CinemaBlend for more up-to-the-minute entertainment coverage, and we'll see you back here for next week's Rate and Discuss.
Senior Movies Contributor
CinemaBlend's James Bond (expert). Also versed in Large Scale Aggressors, time travel, and Guillermo del Toro. He fights for The User.
Your Daily Blend of Entertainment News
Thank you for signing up to CinemaBlend. You will receive a verification email shortly.
There was a problem. Please refresh the page and try again.