This Rotten Week: Predicting Winchester Reviews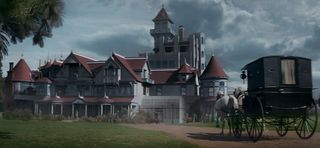 It's another week with just one flick arriving in wide release, as the winter box office doldrums extend into the first weekend of February. Last week it was a bit of young adult action, and now we have 2017's latest horror feature. Get ready for some spooky haunted house action with Winchester.
Just remember, I'm not reviewing these movies, but rather predicting where they'll end up on the Tomatometer. Let's take a look at This Rotten Week has to offer.
In this era of the proliferation of places like Home Depot and Lowes, it can feel like home renovations are endless and ongoing. But that was actually the point for Sarah Winchester, who, at the turn of the 20th century, kept home repairs and additions on her estate going for about thirty years straight. Why? She thought the house was haunted, and aimed to try and confuse the spirits.
Winchester is "inspired by true events," which is typically code for "about 5% of this is true". In this case, the house really exists and Sarah Winchester was actually the millionaire owner of the estate, but the rest of the movie looks like your standard horror fare, with ghouls jumping out of nowhere, weird crap happening in the house, and ultimately some kind of standoff between the disbelieving doctor and the things that go bump in the night. Director brothers Michael and Peter Spierig have some work in this genre with Jigsaw (38%) and to a lesser degree Daybreakers (67%). I can't imagine critics get all that enamored with their latest, even if the cast (including Helen Mirren and Jason Clarke) is a bit more high-brow than you'll typically see with these kinds of flicks.
It's been slow around the box office in early 2018, and, as noted, there was only one movie last week as well. I landed in range with my prediction for The Maze Runner: The Death Cure (Predicted: 34% Actual: 44%). I suspected it would come in under the second movie in the franchise, The Scorch Trials (46%), but instead, it landed right beside it. Most critics, like CinemaBlend's Dirk Libby, agreed that really only hardcore fans of the franchise would have any real interest in the film. That's typically the case with these middling series trilogy-cappers, but doesn't mean we need to completely write them off. This wasn't a bottom-feeder by any stretch, even if it didn't blow the critics' doors off. And we won't need to worry about predicting anything else from Thomas and the W.C.K.D. crew, because this franchise is a theatrical wrap.
Next time around we've got The 15:17 to Paris, Fifty Shades Freed and Peter Rabbit. It's gonna be a Rotten Week!
Doug began writing for CinemaBlend back when Terminator: The Sarah Connor Chronicles actually existed. Since then he's been writing This Rotten Week, predicting RottenTomatoes scores for movies you don't even remember for the better part of a decade. He can be found re-watching The Office for the infinity time.
Your Daily Blend of Entertainment News
Thank you for signing up to CinemaBlend. You will receive a verification email shortly.
There was a problem. Please refresh the page and try again.