As of late, director Clint Eastwood has fallen into a pattern of celebrating "true American heroes." The 15:17 To Paris is his latest tribute to such figures of moral stature, and this time he's engaged in a rarely used, but time-tested gimmick: he's cast the real men involved in the events the film depicts as themselves. While other films may have been at an advantage by using this technique, The 15:17 To Paris surely isn't one of them, and that's only the beginning of the project's litany of problems.
Ever since they were childhood friends, Anthony Sadler, Alek Skarlatos, and Spencer Stone had each other's backs. While time and circumstance separated them, their brotherly bond was always strong. Little did they know that this bond would be tested in the ultimate fashion one fateful day in August of 2015, as an attempted terrorist attack would thrust them into a limelight that life was preparing them for all the long.
Where does one begin with the intensely problematic nature of The 15:17 To Paris? Well, one could start with the fact that the film's first act is so hackneyed, you're lucky if you're still seated after Judy Greer belts out the line,"My God is bigger than your statistics," in response to a teacher's jab about single mother households. Though she's not the only comedic talent wasted in a first act designed to endear us to the central trio of friends as a band of merry troublemakers. Jenna Fischer, Tony Hale, and Thomas Lennon are all central figures in the backstory to our eventual crusaders. To say their casting confuses the tone the film is trying to aim for is putting it severely mildly. Were the entire film to be made up of unrecognizable actors, the pseudo-documentary aspect of this film could have worked as it did in United 93. Unfortunately, this schism in the casting also makes it feel like we're getting two different films in one.
And yet, that's about as good as the acting gets in The 15:17 To Paris, as the overbloated second act featuring Sadler, Skarlatos, and Stone puts their inexperience as actors in sharp contrast. From this point on, the film turns into equal parts ugly American travelogue (complete with plenty of selfie stick action) and half baked meditation on destiny, faith, and the forces that control our paths in life. Just when the film settles into a groove following Spencer Stone through his well-meaning attempt to serve his country, it kicks itself out of motion and becomes all about Stone and Anthony Sadler bantering back and forth about whether they should go to Paris.
By time we actually see the incident in its full duration, after the first two acts tease the moment with snippets of action that are purely to keep you awake, the confrontation that makes up The 15:17 To Paris's climax is pretty dull. As opposed to his usage of repeated retellings of the "Miracle on the Hudson" in Sully, the repeated teases of the events that took place on the train from Amsterdam to Paris come off as lousy editing. Keeping in mind the film's trailer uses that event as a strong selling point, it's a happening that's outweighed by sequences that see our heroes taking advantage of Europe's finest nightlife.
The 15:17 To Paris is a barely competent film that fails both audiences it's trying to reach out to. Faith-based audiences don't get the full inspirational message treatment they'd expect after seeing the trailer, and red-blooded patriots don't get the hymn to the warfighter they probably thought they were going to get. Instead, all audiences are served is the cinematic equivalent of an anti-vaxxer parent who holds the Memorial Day barbecue, while telling you that Memorial Day is about more than just a barbecue. Even in his previously worst ranked films, Clint Eastwood has provided more memorable entertainment. Sadly, The 15:17 to Paris is an all-time career low for Eastwood, designed for an audience the director has previously pandered to in recent years: an empty, unquestioning chair.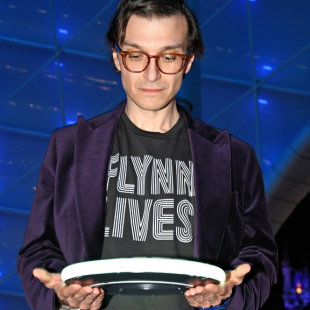 Senior Movies Contributor
CinemaBlend's James Bond (expert). Also versed in Large Scale Aggressors, time travel, and Guillermo del Toro. He fights for The User.