What Melissa McCarthy Learned On Her Past Films That Helped With Life Of The Party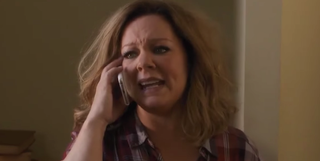 It's undeniable that Melissa McCarthy is one of the most popular comedians working in cinema today. After her starmaking turn in 2011's Bridesmaids, a performance that earned her an Academy Award nomination, McCarthy has since played the lead or joint lead in Identity Thief, The Heat, Tammy, St. Vincent, Spy, The Boss, and Ghostbusters.
It has been over a year since we last saw Melissa McCarthy on the big screen, though. We still got quite the fill of her brilliance, as she wowed audiences with her stunning portrayal as Sean Spicer on Saturday Night Live, executively produced and starred in Nobodies, while she has also been busy filming the likes of The Happytime Murders, Can You Ever Forgive Me?, and Life Of The Party. We visited the set for the latter back in 2016, where we got to see Melissa McCarthy filming several scenes opposite the likes of Gillian Jacobs, Matt Walsh, and Molly Gordon. We also had a chance to speak to McCarthy, where she broke down one of the biggest lessons that she has taken from her past comedic performances that aided her work on Life Of The Party.
In order to give herself, director Ben Falcone, and editors more options in the editing suite, Melissa McCarthy made much more of a conscious effort to give different levels and takes on a scene.
In Life Of The Party, Melissa McCarthy plays Deanna, a longtime housewife who decides to go back to college after her husband suddenly leaves her. It just so happens, though, that McCarthy lands in the same class and school as her daughter, who is, as you'd expect, completely mortified.
Don't forget to also check out the first Life of the Party trailer, which just dropped today.
Life Of The Party, which also boasts the comedic talents of Maya Rudolph, Julie Bowen, Stephen Root, and Jacki Weaver, will be released on May 11.
Your Daily Blend of Entertainment News
Thank you for signing up to CinemaBlend. You will receive a verification email shortly.
There was a problem. Please refresh the page and try again.