7 Directors Who Could Replace Joss Whedon On Batgirl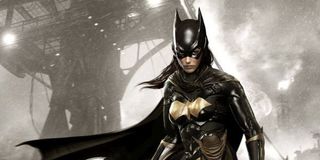 Last week Joss Whedon revealed that he was stepping away from DC's planned Batgirl movie. While it turns out that there are no specific plans to replace him anytime soon, the project itself is still moving forward, which means that at some point, it will need a new director.
While there are countless great directors who could potentially take over the reins of Batgirl, there are some who could certainly add a little something special to DC's other popular female superhero. Here are seven directors who would probably make a fantastic Batgirl movie, if Warner Bros. were willing to give them a chance.
Michelle MacLaren
The first name on the list has to be the most obvious choice. Michelle MacLaren has directed numerous great episodes of television from shows like Game of Thrones and Breaking Bad. She was also Warner Bros. first choice to direct the Wonder Woman movie, so she'd be an obvious consideration for Batgirl. From what we know, MacLaren leaving Wonder Woman was simply a case of having a different vision for the project, so if vision aligns better here, things could easily work out. MacLaren is already set to make her jump to the big screen with The Nightingale and Chris Pratt's Cowboy Ninja Viking, so by the time Batgirl is ready, she'll be ready for a new movie.
Lexi Alexander
As the director of Punisher: War Zone, Lexi Alexander was the only woman to direct a superhero action movie for a very long time, which meant her name always came up when comic book movie directors did. While Alexander has limited her work to television in recent years, she has kept her toes in the comic book world directing episodes of Arrow and Supergirl so shifting to another DC property isn't a crazy idea. It's unclear if Alexander would be interested in taking on another comic book movie, but it doesn't change the fact that she would be more than capable of doing the job.
Rachel Talalay
Rachel Talalay is another director who has been doing most of her work on television of late, but she got her start on the big screen directing a Nightmare of Elm Street film as well as the cult hit Tank Girl. She's been directing some huge television recently, including several episodes of Doctor Who, and one episode of the most recent season of Sherlock. She told us previously that she'd totally be up for directing a Star Wars movie, so it stands to reason she'd also be interested in directing a superhero movie.
Ava DuVernay
Ava DuVernay broke a glass ceiling by becoming the first woman of color to direct a movie with a budget of over $100 million when she took the job of directing DIsney's upcoming A Wrinkle in Time. Once a director starts helming big movies, they tend to do it over and over again, so I fully expect DuVernay to be offered other big projects going forward. She must be on the radar of Warner Bros. and DC as they look for a new director for Batgirl. If she wants to continue to direct high profile films, the movie is almost certainly on DuVernay's radar as well.
Niki Caro
Niki Caro's directorial efforts to date have been focused on dramas like Whale Rider and The Zookeeper's Wife. However, that will all change in a couple years when Caro directs Disney's live-action version of Mulan. If past is prologue, Mulan is likely to be a huge movie and that will catapult Caro into the blockbuster movie conversation. Batgirl may want to lock Caro down quick to make sure they don't lose out on the opportunity when every other big movie wants to have a conversation with her after Mulan has made a billion dollars.
Angela Robinson
Angela Robinson has never directed a comic book movie, but she has directed a movie that had a comic book character central to it. Robinson directed the criminally underrated Professor Marston and the Wonder Women last year, which told the story of the people who helped bring Wonder Woman to life in comics. Robinson would certainly be a dark horse in any conversation of the Batgirl movie, but she showed she's a capable director and at the end of the day, that's what matters. The rest is semantics. I certainly want to see Angela Robinson do more, and a Batgirl movie wouldn't be a bad place to see her again.
Patty Jenkins
Ok, yeah, so this one is a long shot, but let's face it, we know she could get the job done. Patty Jenkins directed Woman Woman and completely changed the game. The film wasn't just good, it was an inspiration. Jenkins is currently getting Wonder Woman 2 put together for release in 2019 but at this point, the Batgirl movie has no scheduled release date, so Jenkins could pick up her third DC comics movie with Batgirl after Wonder Woman 2 is done. It's not a likely scenario, but we doubt anybody would have a problem with it if it happened.
CinemaBlend's resident theme park junkie and amateur Disney historian. Armchair Imagineer. Epcot Stan. Future Club 33 Member.
Your Daily Blend of Entertainment News
Thank you for signing up to CinemaBlend. You will receive a verification email shortly.
There was a problem. Please refresh the page and try again.