Solo Box Office: The New Star Wars Story Seriously Underperforms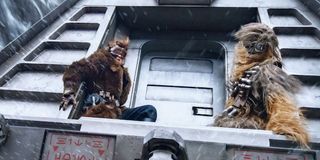 There is no franchise in the world like Star Wars. Since 1977 every single title has been met with extreme anticipation, with audiences regularly desperate to learn more about a galaxy far, far away. That fact has led the Walt Disney Company to make a ton of money over the last three and a half years - but it seems that Ron Howard's Solo: A Star Wars Story is bucking a trend. While initially anticipated to break Memorial Day weekend records, it has instead seriously under-performed. Check out the full Top 10 below, and join me after for analysis.
There is nobody who could have anticipated this, and that fact is highlighted in the estimates that said Solo: A Star Wars Story would make upwards of $170 million in its first four days. Instead, it's first Friday, Saturday and Sunday have only brought in $84 million,and it looks like it will only barely eclipse nine figures by midnight tomorrow. To put this in context, it is far and away the weakest opener of the Disney-era Star Wars stitles, making nearly half of what Gareth Edwards' Rogue One: A Star Wars Story made in the same amount of title in December 2016. It's also notably $7 million shy of the money taken in by Bryan Singer's X-Men: Days Of Future Past on the same weekend four years ago.
I personally thought that Solo: A Star Wars Story was going to bring in crowds if not just so that people could all have their own opinion - but the truth is that there are many things at which I can point for this disappointment. For starters, there is the extreme behind-the-scenes drama, as Phil Lord and Chris Miller were essentially fired from the movie in the middle of production. Of course, that would have been an easy hurdle to get over if the movie wound up being fantastic... but that wasn't really the case. Instead, Disney lifted the embargo early, and a wave of mediocre buzz has been spreading across the internet for about two full weeks now (it looks like it is holding steady with a 71 percent on Rotten Tomatoes). The audiences who are seeing the movie aren't hating it, as it is has received an "A-" on CinemaScore, but there aren't a ton of butts in seats (and that extends to the foreign markets, where it's only made $65 million so far). Also not to be dismissed is the fact that the last few weeks have already seen the release of two of the biggest movies of the year, and people simply may be tired.
Sadly, to reverse an idiom, this is also a case where a falling tide sinks all boats. I wrote at length last week about my confusion regarding the decision by Fox to release David Leitch's Deadpool 2 one week before Solo: A Star Wars Story, and now we have the seriously unfortunate results. With cinemas not proving to be a hot spot this weekend and with the bulk of audiences distracted, the R-rated comic book movie took a huge hit and dropped 66 percent in its second go-round. That's really not awesome - but the good news is that the numbers thus far have been solid. The blockbuster did cost a tad bit more than its predecessor - budgeting at a reported $110 million before marketing - but it has already made north of $207 million domestically, and is getting close to $500 million worldwide. The studio will definitely be pleased, and it would shock nobody if this means that we got Drew Goddard's X-Force sooner rather than later.
Speaking of Marvel movies, Joe and Anthony Russo's Avengers: Infinity War just keeps destroying as well, even as its dropped to third place in the Top 10. A new benchmark was just reached, as the film has now made more that $1.9 billion around the world. Only three other movies in history have done that, and the capstone Marvel Cinematic Universe film is continuing its climb up the all-time charts. It hasn't made headlines since it passed Colin Trevorrow's Jurassic World and moved into fourth place, but now it has its eyes set on Number Three. If it makes another $163,534,987, it will take that spot, surpassing J.J. Abrams' Star Wars: The Force Awakens. There's a fairly good chance that will happen, and if it does that just leaves the James Cameron duo Titanic and Avatar ahead of it.
Because Deadpool 2 was originally positioned after Solo: A Star Wars Story, and because everyone thought the latest blockbuster would be bigger, we have a smaller week ahead of us at the box office - but there are definitely some interesting titles coming out. How will the survival drama Adrift, the heist thriller American Animals, and the comedy Action Point shake things up? Join me next Sunday to find out!
Your Daily Blend of Entertainment News
Assistant Managing Editor
NJ native who calls LA home and lives in a Dreamatorium. A decade-plus CinemaBlend veteran who is endlessly enthusiastic about the career he's dreamt of since seventh grade.
Your Daily Blend of Entertainment News
Thank you for signing up to CinemaBlend. You will receive a verification email shortly.
There was a problem. Please refresh the page and try again.