Simon Pegg Regrets Hating On Star Wars' Jar Jar Binks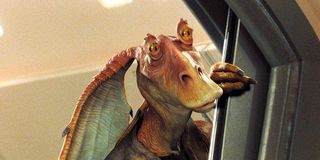 A lot of Star Wars fans have hated on Jar Jar Binks for a very long time, but one popular Star Wars fan now regrets being so outspoken. Simon Pegg recently confessed during an interview for his new film, Mission: Impossible - Fallout, that he's actually quite ashamed about the way he was critical of Jar Jar Binks because he did not stop to consider that there was a person behind the CGI. According to Pegg...
Recently, Ahmed Best, the man who brought Jar Jar Binks to life, admitted to struggling with thoughts of suicide following the fan backlash that came at Jar Jar after Star Wars Episode I: The Phantom Menace. Simon Pegg says that when he read Best's words, he really realized that his being critical of the character had an effect on the person, and he then felt terrible about the things he had said. While Pegg certainly wasn't alone, he included shots at Jar Jar as part of his British TV series, Spaced, making him one of the more public voices in the anti-Jar Jar crusade.
Simon Pegg is probably right in his comments, posted on Twitter by Now This. A lot of people who spoke out about how much they hated Jar Jar Binks were probably speaking entirely about the character as if he was a separate creature. Motion capture performance for CGI creatures was a brand new technology at the time and audiences simply weren't used to thinking about the actor behind the special effects. If anything, it's a testament to Ahmed Best's success in the role that people didn't think about the person who created it and saw Jar Jar as something different, but in the end, it meant he wasn't really considered when people became critical.
Hopefully, Simon Pegg is one of many who reconsidered their comments after reading what Ahmed Best had to say. There's nothing wrong with not liking a character, but the hate that was flung at Jar Jar Binks was pretty unforgiving. At the end of the day, he was just a guy in a movie. It's ok to be passionate about the entertainment that you love, and Star Wars fans certainly are generally speaking, but it should always be kept in perspective.
Content Producer/Theme Park Beat
CinemaBlend's resident theme park junkie and amateur Disney historian. Armchair Imagineer. Epcot Stan. Future Club 33 Member.
Your Daily Blend of Entertainment News
Thank you for signing up to CinemaBlend. You will receive a verification email shortly.
There was a problem. Please refresh the page and try again.