The Meg Box Office: The Giant Shark Movie Blows Expectations Out Of The Water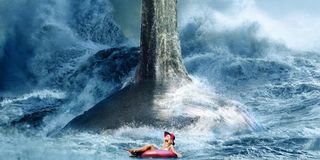 As of last week, it looked like Jon Turteltaub's The Meg was in trouble. Box office estimates came in, and made it very clear that the film would have to make a ton of money overseas because it looked like American audiences were mostly going to ignore it. It turns out those estimates were wrong. Not only is the giant shark movie a hit, but it's made nearly twice as much as prognosticators estimated last week. Check out the totals and the rest of the Top 10 in the chart below, and then join me after for analysis!
Reports a few days ago suggested that The Meg would ultimately make between $20-22 million in its opening frame, but as you can see above, they were way, way off. Instead, the blockbuster managed to successfully double those estimates, and make a total of $44.5 million in its first three days. It was way more than enough to take the top spot at the box office away from Christopher McQuarrie's Mission: Impossible: Fallout, even though the action film has continued to perform well, and only dropped about 43.4% since last week. All together now, thanks to a strong $97 million made in foreign markets, the film has maanged to make $141.5 million worldwide, which already exceeds the project's reported $130 million budget. In short, it looks like Warner Bros. has a legitimate hit on their hands.
Exactly why The Meg is hitting as big as it is remains kind of a mystery, however, as there isn't really anything out there statistics-wise that would suggest this kind of success. Professional film critics are totally split on the shark film, with half of them willing to lean into the campiness and silliness, and the other half dismissing it out of hand. Audience reactions aren't exactly overwhelming either, as it has only earned a modest "B+" from CinemaScore. When you factor in the number of huge movies we've already seen in 2018, it's kind of a wonder that people are buying tickets for The Meg en masse - but apparently folks are very interested.
The other big new release this week was Spike Lee's BlacKkKlansman, which also brought it a whole lot of business - despite being out in fewer theaters than all other titles currently in the Top 10. The film got a modest release, hitting a little more than 1,500 theaters on Friday, but it was definitely a successful move, as the film has claimed the Number Five spot and successfully made more than eight figures. Unlike the case of The Meg, the joint is actually being hailed as one of the best films we've seen so far in 2018, and has earned not only a 97 percent on Rotten Tomatoes, but also an "A-" from CinemaScore. It should go without saying that the money made is well-deserved, and it should be recognized that this is a film that we are going to continue to hear a lot about in the next few months as we get closer and closer to awards season.
That definitely won't be the case for Sylvain White's Slender Man, which finally made its way to theaters this weekend following a series of delays. Back in June it was reported that there were some serious behind-the-scenes issues going on with the project, and now people are starting to understand why. It was successful enough to grab the fourth spot in the Top 10, but you really shouldn't expect it to stay on the chart long. Despite the fact that we are currently experiencing an industry-wide genre renaissance, the movie got totally decimated by critics, and audiences definitely don't seem to be loving it either.
Sadly not doing quite as well is the third new release of the week: Ken Marino's Dog Days. There was very little expectation that the new movie would do a whole lot of business, especially given the competition, but it's certainly unfortunate that it couldn't do better than 12th place and a $2.6 million haul (which explains why you don't see it on the chart above). The film has earned enough positive reviews to be deemed fresh, and also got an "A-" CinemaScore, but people quite simply aren't buying tickets.
As we continue to make our way through August, we have another big week for you coming up, including the early debut of Jon M. Chu's Crazy Rich Asians (set to drop on Wednesday), as well as the action-thriller Mile 22 and the Ice Age story Alpha. Be sure to come back next Sunday to check out the full Top 10 and check out how things have shifted.
NJ native who calls LA home; lives in a Dreamatorium. A decade-plus CinemaBlend veteran; endlessly enthusiastic about the career he's dreamt of since seventh grade.
Your Daily Blend of Entertainment News
Thank you for signing up to CinemaBlend. You will receive a verification email shortly.
There was a problem. Please refresh the page and try again.