Glass Box Office: M. Night Shyamalan Is Number One Again As New Releases Stumble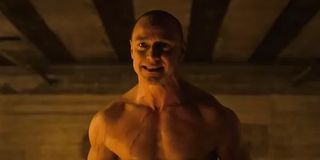 It was long predicted that M. Night Shyamalan's Glass would be the biggest new release of January 2019, and while it's technically under-performed compared to early estimates, it has successfully earned that title. In its second week of release it has won the box office crown for a second time - though it's worth noting that the film didn't exactly have much in the way of competition from new releases. You can check out the numbers from the Top 10 performers in the chart below, and join me after for analysis!
Considering it was made for only $20 million million, Glass can definitely be called a financial success at this point, thanks not only to the domestic numbers, but also its performance abroad. The movie is playing in theaters in 55 other markets, and to date that has resulted in an extra $89.1 million being added to the worldwide total, which currently stands at $162.7 million. It's not exactly The Sixth Sense, which made $672.8 million before it was done with its global theatrical run back in 1999, but it's a nice chunk of cash.
What may be seen as a disappointment for the folks at Universal Pictures is that the movie also isn't quite performing as well as Split - which is the only reason Glass was given the green light in the first place. It's not uncommon for a trilogy capper to get a certain box office bump, as audiences feel compelled to see how the larger story ends, but that doesn't appear to be the case this time. Split was a huge hit when it was released in January 2017, as it was able to follow up a $40 million opening by only dropping about 36 percent in its second week, and going on to make $278.5 million worldwide. Glass actually made a few hundred thousand more than its predecessor in its first three days, but it took a much steeper 53 percent fall in week two, resulting in the numbers you see above.
So what's the big difference? The answer pretty much has to be buzz. Not only did Split get a much warmer critical reception than Glass, but it also got a half-grade higher on CinemaScore (a "B+" vs. a "B"). The first Unbreakable sequel also rode into theaters with a great deal of talk about its fantastic twist ending, and people wanted to see it for themselves before getting spoiled - while this most recent release had none of that going on. Given the circumstances, and the anticipated titles set for theaters in February, it will be interesting to see if the 2019 movie can surpass After Earth ($243.8 million worldwide) and become M. Night Shyamalan's seventh most successful feature.
Being number one for two weeks in a row definitely looks good on paper for Glass, but it should also be noted that the film wasn't exactly facing off against a new Marvel or Jurassic Park film. In fact, there were only two new wide releases in theaters this weekend, and neither of them did particularly well. Admittedly there weren't exactly massive expectations in play, but at the same time you always hope that fresh features will land higher than 4th and 8th place.
Admittedly Joe Cornish's The Kid Who Would Be King very nearly nabbed third place, as it opened just $100,000 behind James Wan's Aquaman, but still it fell just a tad short. It's a shame because it's one of the best movies that is playing on the big screen right now, and a legitimate delight as a family film. It's definitely being appreciated, as it got a "B+" from opening weekend audiences, according to CinemaScore, but the numbers aren't super impressive. One could argue that one bright side is that the feature has already made about seven times as much money as Cornish's directorial debut, Attack The Block, so that's something to hang a hat on. It wasn't until Baby Driver that Cornish's frequent collaborator Edgar Wright finally connected with American audiences, so maybe his next title will be the one that becomes a huge box office sensation.
There are unfortunately fewer positive things that can be said about Steven Knight's Serenity - which got points from critics for trying something new, but ultimately slammed for not being able to effectively execute its big ideas. There was surely a lot of hope that the movie would be able to put asses in seats thanks to the fact that it is headlined by two Academy Award winners - Matthew McConaughey and Anne Hathaway - but that plan didn't really work out. The $4.8 million it made was barely enough for it to top Adam Robitel's Escape Room in its fourth week of release, and very much adding insult to injury is the act that it's rocking a "D+" on CinemaScore. It would seem people are not appreciating what is definitely a super oddball feature.
The last big development to point out from these numbers is the resurgence of Peter Farrelly's Green Book, which made its way back into theaters nationwide this weekend in hopes of capitalizing on Golden Globes and Academy Award buzz. The feature initially got a slow rollout in November 2018, making about $44 million during its first release window, but now its added a nice bit of extra money to that total after Universal pushed it back into more than 1,500 theaters. It's worth noting that it never fully disappeared, as from January 18-20 it was still in 900+ theaters and in 14th place, but still people definitely took advantage of this expansion.
Looking ahead, Glass will be trying to three-peat, but in order to do so it will have to outperform the Gina Rodriguez thriller Miss Bala, the Clive Owen-led Three Seconds, and the chilly adventure Arctic with Mads Mikkelsen. As always, we'll be back next Sunday with our full box office report to see how it all shakes out and go over the numbers, so be sure to tune in next week.
Your Daily Blend of Entertainment News
Assistant Managing Editor
NJ native who calls LA home and lives in a Dreamatorium. A decade-plus CinemaBlend veteran who is endlessly enthusiastic about the career he's dreamt of since seventh grade.