This Rotten Week: Predicting Captain Marvel Reviews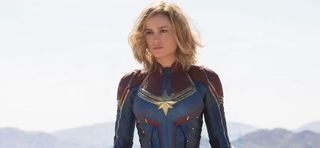 We've only got one wide-release movie in the lineup this week, but it's a huge one. The much-anticipated new MCU entry Captain Marvel hits the big screen, and several of us here at CinemaBlend couldn't be more pumped for some intergalactic hero worship.
Just remember, I'm not reviewing these movies, but rather predicting where they'll end up on the Tomatometer. It's also worth pointing out up top that This Rotten Week isn't affected by the recent changes made at Rotten Tomatoes, which reportedly weren't made in connection with Captain Marvel. (Those changes include eliminating the Want To See scores prior to release, as well as not allowing comments to be made about a movie prior to its release.) Now let's take a look at This Rotten Week has to offer.
We are perhaps reaching critical mass in the Marvel Cinematic Universe with Avengers: Endgame now less than two months away, if critical mass is even possible. But before that goes down, moviegoers need to step into the past to get caught up on that mysterious (but not really) call that Nick Fury put out on that dated pager at the very end of Infinity War.
Captain Marvel goes back two decades to introduce audiences to Carol Danvers, one of the many iterations of the superheroine in Marvel Comics' canon. Played by Brie Larson, this film offers up another origin story spanning time and space that will help set her character in the right position for Endgame.
Though no Captain Marvel reviews are officially posted yet, which isn't out of the ordinary for a big MCU flick, early reactions do seem almost overwhelmingly positive. It looks like a fun movie, the kind that Marvel has become known for in the singled-out hero movies that fill out the larger universe. With the bar already set so high across the rest of the franchise, it looks like this one can and will live up to the hype, with directors and co-writers Anna Boden and Ryan Fleck at the helm.
Recapping last week:
I went one for two last week with my predictions, having both movies fall within ten percent of the guesses. Tyler Perry's A Madea Family Funeral (Predicted: 20% Actual: 29%) was an easy one, considering the critical track record of director Tyler Perry
Tyler Perry just doesn't make films that appeal to critics, despite the fact that audiences turn out in droves. In this case, just taking the average of his previous directorial works was more than enough to make a solid prediction. The tone of the reviews was just more of the same for what looks to be the final chapter in the successful Madea franchise. On to more critically laudable things for Perry? We'll see.
Greta (Predicted: 65% Actual: 57%) is another win for the two female leads (Chloe Grace Moretz and Isabelle Huppert), according to critics, as they carry this story about an obviously psycho older lady who befriends and then stalks an innocent millennial. I had a bit of a review-driven head start with my prediction, and suspected the score would drop over the course of the week. It did just that and more, and I was actually lucky to have it stay within range.
Next time around, we've got a big one with the novel adaptation Five Feet Apart and the animated feature Wonder Park. It's gonna be a Rotten Week!
Your Daily Blend of Entertainment News
Doug began writing for CinemaBlend back when Terminator: The Sarah Connor Chronicles actually existed. Since then he's been writing This Rotten Week, predicting RottenTomatoes scores for movies you don't even remember for the better part of a decade. He can be found re-watching The Office for the infinity time.