Yes, Taron Egerton Threw Himself Down Some Stairs While Filming Rocketman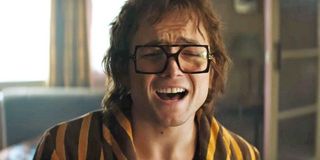 Taron Egerton really put his all into playing Elton John in Rocketman, the new musical biopic from director Dexter Fletcher that is out in theaters right now. There's already been a lot written about how Egerton did his own singing as Elton John, but we've heard less about the stunt work Taron Egerton did, of which there was a surprising amount.
In fact, in a recent interview, Taron Egerton revealed that one particularly harrowing scene in Rocketman involving a dangerous-looking stairwell. He noted he ultimately decided to shoot the scene himself, mentioning,
The things we do for love and art... In the past, Taron Egerton has left some of the stunt work to the professionals, but in Rocketman, it's clear he, the actor, actually fell down those stairs as the camera pans in rather close during the sequence.
Looking back, Taron Egerton told USA Today he's super happy he took the task on himself because of how it comes off in the film. He also said he really wanted to make sure that the Elton presented in the movie was his Elton, thus explaining the need to do his own stunt. He said:
The moment – and minor spoilers if you aren't familiar with the life of Elton John – comes when Elton John is at his lowest. The singer and performer could always captivate an audience, but it took a lot out of him. And Rocketman seems to push the idea that Elton's deep-seeded issues from childhood spawned a dislike for his person and an abundance of drug abuse.
Following a night of rampant drug use, he tumultuously falls down some stairs.
Of course, all of this pales in comparison to something like Tom Cruise breaking his ankle jumping off a building. But sanely, Taron Egerton doesn't seem like the type who would want to compete with Cruise, which is likely why he leaves a lot of the Kingsman stunts to the professionals. Still, it's good to know he's game to try new things when it can improve a scene.
Rocketman didn't win the box office this weekend, but it was still a good start for the biopic, which kicked off to $25 million domestically and $56 million worldwide. While not a box office behemoth, there's obviously a lot of interest around the movie and with a lower budget, it should end up being a hit.
Related: How Rocketman's Box Office Compares To Bohemian Rhapsody
A lot of the reason I personally enjoyed Rocketman was because Taron Egerton and Dexter Fletcher did a good job of making Elton John seem vulnerable and someone the audience can empathize with even at his lowest. Part of that may have to do with the work Taron Egerton put in with things like the stair scene and the portion of the movie where he had to figure out how to "sing" underwater with a camera trained on him.
Taron Egerton also doesn't just mimic Elton John in the role, a request he said Elton John made of him, noting,
Luckily, it all seems to have worked out, as Rocketman is rapidly becoming one of the movies that both the critics and the audience seem to really be latching onto this year.
If you haven't caught the movie for yourself you can check out Rocketman, in theaters now. Or take a look at its summertime competition with our full movies schedule.
Your Daily Blend of Entertainment News
Reality TV fan with a pinch of Disney fairy dust thrown in. Theme park junkie. If you've created a rom-com I've probably watched it.