Danny Boyle Says He Has Concerns About Making A Movie With A Female Lead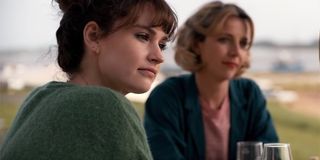 Danny Boyle is a maker of movies, a prominent voice in the directorial world with features spanning plenty of genres and different types of stories. His latest, Yesterday, is hitting theaters this weekend. However, while you may note Yesterday is a fanciful and escapist tale set to Beatles music and is very different from a lot of Boyle's other movies, it does have one thing in common: a male lead.
Recently, the director talked a little bit about his penchant for male protagonists in his movies, noting that he does have concerns with the idea of directing a movie geared around a female character. He noted:
There are plenty of notable female characters in Danny Boyle movies, characters like Rosario Dawson's Elizabeth Lamb in Trance or Joanna Hoffman in Steve Jobs or Freida Pinto as Latika in Slumdog Millionaire.
His new movie Yesterday does have one female character in particular who is given agency and an engaging storyline. In fact, I'd argue that while Himesh Patel is charming, Lily James is the actor who really steals the movie in Yesterday, playing a ray of sunshine in Jack Malik's life who eventually has to find a way to stand up for herself and what she wants out of her life.
Still, Yesterday is ultimately Jack Malik's story and not Ellie's.
Slumdog Millionaire is Jamal's story and not Latika's.
Steve Jobs has Steve Jobs in the damn title, so we know what that movie is about. I could go on, but you get the gist. (And besides Trance is a little more of an ensemble.)
Danny Boyle went on to tell The Independent in the same interview that a lot of the projects he personally enjoys, particularly lately, have female names and voices front and center:
On that note, Gentleman Jack, which airs on HBO in the States, has been a genuine delight to watch on the small screen. Suranne Jones is the lead in that project and Fleabag is a Phoebe Waller-Bridge project that's also earned a lot of nods. (Waller-Bridge has also notably worked on the script for Bond 25, a movie Danny Boyle was supposed to helm but then backed out of.)
What Danny Boyle seems to be intimating is that while he watches a lot of female-led projects, he's just concerned about how it would look if he were to helm one, given he's not a lady and the current climate with directing is trying to get more female projects made by actual females. Danny Boyle's always pretty much been a straight shooter, so his response isn't a gigantic surprise here.
It's not clear what exact question he was asked, but it's an interesting minefield to navigate as a prominent name in the movie-making business. Of course, we want more female directors, but it probably would just be cool to have more movies with female stars in general. Just don't expect Danny Boyle to do is anytime soon.
Yesterday opens on June 28. Come for the Beatles songs, stay for Lily James.
Your Daily Blend of Entertainment News
Reality TV fan with a pinch of Disney fairy dust thrown in. Theme park junkie. If you've created a rom-com I've probably watched it.