How Todd Phillips Celebrated Joker Becoming The Biggest R-Rated Movie Ever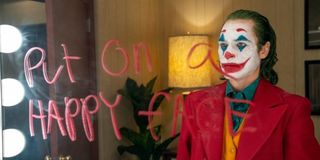 It may seem difficult to believe now, but there was a time when Joker's success was far from a sure thing. Against the odds (and a whirlwind of criticism), it has surpassed a new box office record and become the highest grossing R-rated movie of all time -- and its momentum has shown few signs of slowing down. And Joker's director, Todd Phillips, celebrated this new milestone in a way that was both gracious and defiant.
On October 25, 2019, Todd Phillips uploaded two photos to his Instagram account. Both showed Joaquin Phoenix's Joker basking in the glow of an adoring crowd, with the words "Biggest R-Rated Movie Ever" emblazoned in the background. And if his elation wasn't clear from the images themselves, their accompanying caption drove it home, writing, "Wow!! Thanks to my wonderful cast & crew and of course, the fans from around the world— for seeing through all the 'noise' and SHOWING UP (some more than once)! We are super proud of the film and all your wonderful messages make it that much more special. #Joker worldwide."
The "noise" in question is, of course, the numerous controversies surrounding the film. Joker drew criticism for its dark themes, and concerns about copycat violence in the wake of the 2012 mass shooting at a screening of The Dark Knight Rises. And Todd Phillips himself has drawn ire from fans and critics alike. He received heavy backlash for comments he made about "woke" culture, and how it caused him to leave comedy behind and take on the challenge of bringing the Joker's origin story to life. There's even been drama surrounding Joaquin Phoenix's predecessor, Jared Leto, and his alleged reaction to the film.
Despite it all, Joker has surpassed expectations. It won the top prize at the Venice Film Festival before it premiered. And even though the film has had mixed reviews, Joaquin Phoenix seems to be an obvious contender this Oscar season, thanks to his unforgettable performance. As of October 26, 2019, the film has grossed more than $250,000,000 in the United States, and over $770,000,000 worldwide. And it's become a cultural phenomenon, spawning Saturday Night Live spoofs and turning one of its iconic settings into a hot tourist location.
Todd Phillips isn't the only person who took a moment to weigh in on Joker's incredible success. Ryan Reynolds shared a very Deadpool-ian acknowledgement of the film's latest accomplishment (and the fact that it overtook his own box office record). And since Joker continues to make bank, and could eventually pass the $1 billion mark, it seems like its cast and crew will have more historic victories to celebrate in the days to come.
Keep up with everything still heading to the big screen this year with our 2019 movie release date schedule.
Your Daily Blend of Entertainment News
Your Daily Blend of Entertainment News
Thank you for signing up to CinemaBlend. You will receive a verification email shortly.
There was a problem. Please refresh the page and try again.