Did Jared Leto Really Try To Stop Warner Bros. From Making Joker?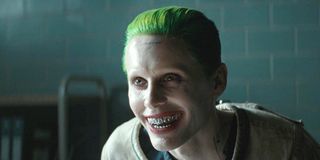 There's been no shortage of drama surrounding Joker. Todd Phillips' dark origin story for one of Batman's biggest archenemies has inspired more than one controversy and broken box office records. And if rumors are to be believed, even the film's origins were contentious, because Jared Leto had a bone to pick with Warner Bros. before Joker was even made.
Anyone who's followed the DCEU knows that Jared Leto's commitment to bringing the Joker to life was extreme. And while he did his best to embody the role in David Ayer's Suicide Squad, Warner Bros. was ready to go in another direction. According to The Hollywood Reporter, the Suicide Squad actor allegedly felt blindsided when he learned that the studio had green lit a standalone Joker story.
After realizing that he was losing the role to Joaquin Phoenix, he was allegedly so upset that he appealed to the powers that be to have Warner Bros. put the kibosh on Joker. THR's sources claim that the actor asked his music manager, Irving Azoff, to complain about the studio's decision to one of Warner Bros.' parent companies. If Leto did, in fact, make that request, these sources make it clear that Azoff never followed through. The two have since ended their professional relationship.
THR said that Jared Leto's alleged frustration stemmed from his belief that Warner Bros. had misled him. Leto believed he would continue to play the Joker after Suicide Squad as late as 2017. Shortly after Phillips' project was announced, the actor did publicly speak to his confusion about where he stood with regard to the role. To make matters more complicated, at one point it seems that he was going to get a chance to reprise his role -- Variety reported a Leto-led standalone Joker film was in the works in June of 2018. However, that doesn't seem to be going anywhere -- and James Gunn recently suggested the actor won't be playing the Joker in his upcoming The Suicide Squad.
This is just the latest in a string of rumors surrounding his portrayal of the notorious villain. Jared Leto was reportedly not happy with how much of his performance was cut from Suicide Squad -- though some of those comments, too, were only hearsay.
A source close to Jared Leto has denied THR's claims that the actor attempted to prevent Joker from being made.
Joker is still continuing its unprecedented success, having raked in more than $600 million in ticket sales worldwide. And despite any controversy, Joaquin Phoenix has earned unending praise for his performance. So regardless of how everything went down between Jared Leto and Warner Bros., it may be safe to say his days playing the Joker are in the past.
Your Daily Blend of Entertainment News