Terminator Box Office: Dark Fate Tops The Charts, But The Numbers Aren't Good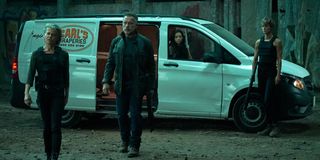 Despite being one of the biggest franchises in the world in terms of brand recognition, Terminator movies have spent the last decade as iffy box office offerings. Neither McG's Terminator: Salvation nor Alan Taylor's Terminator: Genisys were able to crack $50 million in their summertime opening weekends, and the latter wasn't even able to hit nine figures in its entire domestic run. That being said, given the involvement of James Cameron as both writer and producer, and the return of star Linda Hamilton, there was still hope by Paramount Pictures that the tide could be turned with the release of Tim Miller's Terminator: Dark Fate. Sadly, it doesn't appear that's the case, as while the new movie has won a box office crown, the numbers aren't good.
Check out the full Top 10 below, and join me after for analysis!
Swipe to scroll horizontally
| Movie Title | Weekend Amount | Total Amount | Chart Position Last Week | Number of Screens |
| --- | --- | --- | --- | --- |
| Terminator: Dark Fate* | 29000000 | 29000000 | 0 | 4086 |
| Joker | 13925000 | 299611992 | 2 | 3519 |
| Maleficent: Mistress Of Evil | 12175000 | 84324711 | 1 | 3820 |
| Harriet* | 12000000 | 12000000 | 0 | 2059 |
| The Addams Family | 8499007 | 85295007 | 3 | 3607 |
| Zombieland: Double Tap | 7350000 | 59307162 | 4 | 3337 |
| Countdown | 5850000 | 17766036 | 5 | 2675 |
| Black And Blue | 4050000 | 15442478 | 6 | 2062 |
| Motherless Brooklyn* | 3650000 | 3650000 | 0 | 1342 |
| Arctic Dogs* | 3100000 | 3100000 | 0 | 2844 |
Looking at things from a more sunny perspective, Terminator: Dark Fate did manage to make more money in its first three days than Terminator: Genisys, but it's not all that impressive considering that the margin is less than $2 million, and the 2019 release cost about $30 million more to make (the price tag on the new movie is a whopping $185 million). Following the same trajectory as its predecessor, that means that its final total should be around $400 million globally - which you'll remember wasn't enough money to motivate the studio to green light a sequel.
Normally this would be a case where the foreign markets might save the film from totally crashing and burning, but it's not clear that's going to happen in this case. As we reported last week, the would-be blockbuster got off to a slow start when it premiered early overseas, and the numbers didn't really get much of a boost from the second weekend performance. Thus far the film has not yet crossed $100 million outside North America (it's currently sitting at $94 million) which is honestly surprising.
The movie may wind up turning a profit, but the box office performance is definitely well below expectation. There were some prognosticators that estimated that Terminator: Dark Fate could make as much as $40 million in its first three days, but the film instead fell well below that bar. This is despite having no real major competition in wide release, and following up a weekend where a fight for the top spot was carried out between titles in their fourth (Todd Phillips' Joker) and second (Joachim Ronning's Maleficent: Mistress Of Evil) weekends.
There is another positive in that Terminator: Dark Fate was given a much more positive reception from professional critics compared to the last two chapters in the franchise, but the response from audiences has been more on the lukewarm side. Crowds surveyed by CinemaScore ultimately delivered a "B+," which is actually the exact same score that was given to all of the previous Terminator sequels... with the exception of James Cameron's Terminator 2: Judgement Day, which earned an "A+."
Folks definitely aren't popping champagne corks today over at Paramount Pictures, and we'll just have to wait and see what the future holds for his franchise.
Terminator: Dark Fate was the only new big blockbuster arriving in theaters this weekend, but a smaller release that can definitely celebrate the final numbers is Kasi Lemmons' Harriet - which pulled in $12 million, and averaged nearly $6,000 per theater. Considering the importance of the story being told, following Harriet Tubman (Cythia Erivo) as she works to free slaves via the Underground Railroad, it's great to see the film getting a lot of attention, and hopefully there are cinemas across the country that are full of young people learning about a true life hero. What is clear is that people are very much enjoying the film, as it, like Terminator 2: Judgement Day, has earned an "A+" on CinemaScore.
The only other two new releases from this past Friday to Sunday occupy the last two spots on the box office chart, and obviously aren't big wins. Following years of development, Edward Norton's Motherless Brooklyn got a modest launch from Warner Bros. this weekend with placement in about 1,300 theaters, and apparently the mixed response from critics didn't result in swaths of people running out to buy tickets.
Meanwhile, Aaron Woodley's animated Arctic Dogs - which notably wasn't screened for critics prior to release - is also clearly a title that will not be showing up again in my weekly box office report. The film features an outstanding voice cast - including Jeremy Renner, James Franco, Anjelica Huston, Alec Baldwin, Laurie Holden, John Cleese, Omar Sy, Michael Madsen, and Heidi Klum, but clearly it wasn't able to spur any interest anywhere. It's possible that it could wind up doing well abroad, but I don't think anyone involved is going to wind up counting it in their personal win column.
Further emphasizing this as a downer week for the box office, we don't really have any big milestones to highlight either, though the news cycle will soon (either this upcoming week or next) be getting some major headlines for Joker. Not only is the film right on the precipice of crossing $300 million domestically, but it is also getting ready to become the seventh feature in 2019 to make over a billion dollars worldwide. The current total stands at $934 million, and if you can't tell from the fact that it's still the number two movie in America, it's still making cash selling tickets.
While the box office results this week were definitely on the "blah" side of things, hopefully we will get to see a major uptick starting this upcoming Friday. Theaters are getting a nice injection of big movies including Mike Flanagan's Shining sequel Doctor Sleep, Andy Fickman's family-friendly Playing With Fire, and Paul Feig's romantic comedy Last Christmas. Which film will win out and (presumably) push Terminator: Dark Fate out of the number one spot? Be sure to come back next Sunday to see how these new releases shake things up in the Top 10.
Your Daily Blend of Entertainment News
Assistant Managing Editor
NJ native who calls LA home and lives in a Dreamatorium. A decade-plus CinemaBlend veteran who is endlessly enthusiastic about the career he's dreamt of since seventh grade.