Parasite Is 2019's Highest-Grossing Foreign Film In U.S.: Oscars Next?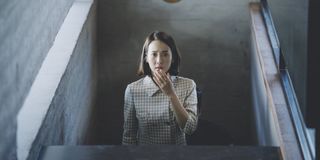 It's rare for a film that's not in English to do well at the U.S. box office. The fact that Boon Joon-ho's Parasite is in Korean hasn't deterred audiences around the world from checking it out. The critically acclaimed hit just became the most successful foreign film of 2019. And it could very well become South Korea's first Oscar-nominated film.
As of November 10, Parasite has made $11,278,976 in North America, per Box Office Mojo, and $106.7 million worldwide. Per Variety, that makes it 2019's highest-grossing foreign film in the U.S., edging out Mexico's No Manchas Friday 2, which currently has a $9.2 million domestic gross.
Given that Parasite has had a limited release stateside, those are especially impressive figures. Before the film was given a theatrical release, it premiered at the Cannes Film Festival, where it won the coveted Palme d'Or — so anticipation was high before its theatrical release. And critics have almost universally praised the film, which has helped the buzz grow. But what seems to truly be driving Parasite's success is good old-fashioned word of mouth.
On the surface, Parasite may not seem like a crowd pleaser. Its trailer feels simultaneously ominous and off-beat, and it doesn't give a clear idea of exactly what viewers can expect when they see it. But fans and critics alike say that's one of the film's strengths. They've noted that it blends genres, offering up elements seen in both thrillers and black comedies. And though its satirical social commentary has resonated deeply with Koreans, those who've seen it in the United States say its themes are universal.
Cinephiles who've kept tabs on Korean cinema likely aren't surprised that Parasite is emerging as one of the most acclaimed films of the year. Bong Joon-ho is one of South Korea's most celebrated auteurs, lauded not just for his aesthetic sensibilities, but for his irreverent storytelling. His career spans nearly 20 years, and includes some of the country's most beloved movies. Fans in the United States are probably most familiar with Snowpiercer and Okja. But he's also been lauded for films like Mother, The Host, and Memories of Murder. In many ways, it's surprising that he hasn't seen an Oscar nomination yet, given his track record.
But thus far, South Korea has been completely shut out of the Academy Awards. Though Snowpiercer was submitted and Okja was short-listed in the past, they were shut out of the final nominations. And Lee Chang-dong's Burning, which was also shortlisted for the Best Foreign Film nominee list, was one of last year's many snubs. If Parasite gets a nomination, it would be the extremely well-deserved icing on the cake of an already monumental run, not only for Bong Joon-ho, but also for the country he calls home.
Your Daily Blend of Entertainment News