The 10 Best 2019 Movies To Get Snubbed By The Oscars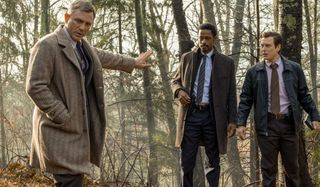 Out of the films that were released in 2019, only a select handful of movies made it into the nominated class of 2020's Academy Awards. Of course, it wouldn't be the Oscars if there wasn't a healthy field of snubbed titles that the public, and maybe some voters, felt deserved better.
10 films felt especially robbed when the Academy Awards nominations were handed down this week, with at most a single nomination to their credit, and at least absolutely nothing to show for themselves. In honor of these fallen flicks who had some buzz but couldn't make the cut, we would like to present the 10 best 2019 movies that were snubbed by the Oscars, ranked from worst to best.
10. Frozen II
While 2020 Best Original Song nominee, and soon to be sing-along experience, Frozen II might not have made the same impact that Frozen did back in its day, it cannot be denied that the film is an absolute hit. Parent and child alike returned to Arendelle, as Elsa (Idina Menzel) and Anna (Kristen Bell) embarked on an adventure into the unknown past of their family history, replete with the sort of songs and humor that made the series a modern classic.
Somehow, the Best Animated Film category eluded Frozen II, and as far as snubs go, that feels like a pretty big one. With the original film not only getting the Best Animated Film nod, it actually won those honors back in 2014. So at the very least, the 2019 movie felt like a sure fire attendee at the 2020 Oscars. But, as history has shown us, sometimes even the popular kids get put on ice.
9. Richard Jewell
Director Clint Eastwood's account of the media circus and persecution of Richard Jewell's eponymous protagonist hit the box office with a mixed bag of reviews that saw the film falter upon release. And yet, despite the controversy and the reactions that saw the examination of this moment in modern American history, there was still a fair amount of praise given in certain fields.
In particular, performances from members of Richard Jewell's cast have gained a favorable reaction, with Kathy Bates actually getting a Best Supporting Actress nomination for her portrayal of Barbara Jewell. But not only did the film seem like a ripe pick for a dark horse Best Picture candidate, actor Paul Walter Hauser felt like a solid pick as an outlier for the Best Actor race as well.
8. Hustlers
Writer/director Lorene Scafaria looked like a contender for not only a Best Adapted Screenplay nomination for her work on Hustlers, but a Best Director nod seemed in the bag as well. And if we're talking about sure things, Jennifer Lopez was such a solid lock for Best Supporting Actress, you could have practically printed the invitations to her after party months ago.
And yet, when the big morning came, this dramatization of a true ring of strippers who fleeced the rich and powerful somehow came up empty. In fact, Hustlers is one of the 2019 movies that was totally shut out of the 2020 Oscars race this year. Get ready, because this isn't even the controversial Academy Awards freeze out of this year's class; despite J Lo's empty handedness being severely called out by the internet.
7. The Farewell
Another movie in a similar boat as Hustlers is writer/director Lulu Wang's The Farewell, a film based on her own experiences involving her family hiding a diagnosis of terminal illness from her paternal grandmother. With a rosy outlook instilled by the film's Golden Globes nominations, and in one special case a history making win for Awkwafina in the category of Best Actress in a Musical or Comedy, the Oscar outlook seemed to show a lot of promise.
Of course, The Farewell bid goodbye to any sort of Academy Awards wins pretty quickly, as another shutout found the movie's fans rather upset. Not even a Best Picture nomination was visited upon the film, nor was there a nomination for Awkwafina for Best Actress, or for Lulu Wang in the categories of Best Adapted Screenplay and Best Director.
6. The Lighthouse
The ever present spectre of genre bias has yet again reared its head at the Academy Awards, providing horror fans with yet another case of agita as Robert Eggers' The Lighthouse only saw one Oscar nomination to its name. While Jarin Blaschke's Best Cinematography nomination is indeed a cause for celebration, some expected more for this atmospheric horror involving two seemingly doomed lighthouse keepers.
In fact, the most talked about omission from The Lighthouse's potential awards chances was that of Willem Dafoe and his supposed snubbing as a Best Supporting Actor contender. With his stereotypical bombast and charm mixed into the character of Thomas Wake, Dafoe's chemistry as a co-lead with Robert Pattinson had folks sadly amped up for nothing.
5. Ad Astra
Here's an interesting case of a snubbing: Brad Pitt found himself nominated for a Best Supporting Actor Oscar this year with his performance as Cliff Booth in Once Upon A Time In Hollywood. This happened in the same year that Pitt gave what some consider to be an even greater performance in James Gray's underseen sci-fi epic, Ad Astra; a film that holds one nomination in 2020's Academy Awards race for Best Sound Mixing.
The story of a man who finds himself connecting with humanity more than ever, during a quest across the whole of the known universe to find his father and avert planetary crisis, it felt like a pure Oscar bait film when it was released. But Ad Astra's emotionally cerebral adventure couldn't even land an acting nomination for its much talked about lead actor, nor could it nab a Best Original Screenplay or Best Visual Effects nod.
4. A Beautiful Day In The Neighborhood
In a year that seemed to value the message of kindness to quite an impressive extent, director Marielle Heller's A Beautiful Day In The Neighborhood only has one 2020 Oscar nomination to celebrate. With Tom Hanks' variant of Mister Rogers scoring him a Best Supporting Actor Oscar nomination, his first nom in almost 20 years, there's one case of all seeming right in the awards season world.
But the failure to nominate Heller's exquisite work directing A Beautiful Day In The Neighborhood feels particularly upsetting, as her unique style turned what could have been a standard biopic into an exciting, introspective affair. Not to mention, a Best Adapted Screenplay nomination feels only fair, as writers Micah Fitzerman-Blue and Noah Harpster turned journalist Tom Junod's profile on an American legend into a creative retelling of true history.
3. Dolemite Is My Name
In 2007, Eddie Murphy landed his first Oscar nomination for Best Supporting Actor in the musical Dreamgirls. While he would lose out to Alan Arkin in that category, it felt like Murphy would eventually find the project to win himself some of that Oscar gold. Naturally, once his performance as Rudy Ray Moore in the Netflix biopic Dolemite Is My Name started to pick up steam, the hype train pulled out of the station on a cloud of good feelings and excitement.
For as much universal acclaim the film and its lead had garnered, Best Actor and Best Picture felt like they were in the bag. There was even a case for Best Adapted Screenplay nominations going to the film's writers Scott Alexander and Larry Karaszewski, as their work on Dolemite Is My Name helped make that magic happen in the first place. But no nominations were awarded, and much like Jennifer Lopez, Eddie Murphy has all the cause in the world to stay hungry and get out there to find that next golden opportunity.
2. Knives Out
If Knives Out was completely shut out of the Academy Awards, you could be there would have been a torrent of think pieces discussing how writer/director Rian Johnson's murder mystery comedy was snubbed so hard, it would have left a dent in the foundation of the Dolby Theater. Thankfully, the first of potentially many adventures for Daniel Craig's Benoit Blanc did manage to secure one important nomination for Johnson's Best Original Screenplay.
However, it's funny that out of an ensemble of pitch perfect performances, with meticulous production design, costuming, and direction all coming along for the ride, Knives Out couldn't secure technical nominations for those very fields we've just mentioned. If you ask us, the lack of nominations for this film's artistry is the true crime; though at least those involved are laughing to the bank.
1. Uncut Gems
Here it is: the ultimate rage quit of 2020's Academy Award nominations. In another A24 shutout, Josh and Benny Safdie's Uncut Gems landed zero nominations for the much loved indie darling. While Good Time felt like the ultimate warmup of the Safdie Brothers' powers, Uncut Gems captivated audiences far and wide with their weaponized anxiety that they weave so well. So, at least a Best Director nomination and/or a Best Original Screenplay nod with co-writer Ronald Bronstein should have been in order.
But the greater injustice is the fact that there was no Best Picture consideration given to Uncut Gems' funny and frantic neo-noir potboiler; and nor was there a spot saved for Adam Sandler's commanding performance as Howard Ratner, which moves the film along on a greased rail of tension and nerves. Sandler made a promise that he would give the world the worst film ever if the Oscars turned out to be a bust, and quite frankly, we deserve the full fury and wrath of The Sandman.
Now that you've taken a moment to process the increasing feelings of upset, anger, and maybe just disappointment surrounding our selection of snubbed cinema, it's time to get active. Let us know what you think is the greatest film to be snubbed in its lack of nominations for the 92nd annual Academy Awards, courtesy of the poll presented below.
Also, don't forget to hit our comments section to provide some commentary as to why you made your choice, as well as let us know if there's any further titles that should have been considered. Last, but not least, we would be foolish if we didn't remind you that the Oscars will air on Sunday, February 9th at 8 PM ET on ABC. So if we're going to be angry, let's be angry together, as friends!
Your Daily Blend of Entertainment News
Senior Movies Contributor
CinemaBlend's James Bond (expert). Also versed in Large Scale Aggressors, time travel, and Guillermo del Toro. He fights for The User.
Your Daily Blend of Entertainment News
Thank you for signing up to CinemaBlend. You will receive a verification email shortly.
There was a problem. Please refresh the page and try again.