Quentin Tarantino Is Proud To Have Fought In 2019's 'War For Movies' Against Avengers: Endgame And Star Wars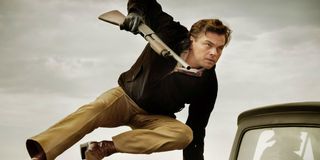 When we look back on 2019, we'll absolutely remember it as a year where franchises dominated. But Star Wars: The Rise of Skywalker and Avengers: End Game weren't the only films that pulled in impressive numbers -- and Once Upon a Time in Hollywood director Quentin Tarantino thinks that's because he, and others, were on the frontlines of a "war for movies."
While interviewing Quentin Tarantino for Deadline, Michael Fleming Jr. pointed out that Once Upon a Time in Hollywood had a great year, both at the box office and now on the awards circuit. And the film found all that success, despite Hollywood leaning heavily into franchise films and sequels. The director had an interesting take on why that may have been the case:
And you know what? He's kind-of right. It's not that non-franchise filmmakers went onto their sets with battle armor on. But amidst a debate over the importance of seeing movies in the cinema, blockbusters weren't the only films to see exceptional success at the box office. Quentin Tarantino definitely noticed:
Once Upon a Time in Hollywood wasn't the only non-franchise film that made a mark last year. Films like Knives Out, Us, and Parasite proved that there's room for non-franchise stories to resonate with moviegoers. And Quentin Tarantino thinks those successes happened at a perfect time:
The debate over where Marvel movies fit in to the history of cinema likely won't be over any time soon. While Quentin Tarantino's cynical view of franchise films may not be entirely fair, he is right to advocate for a wide a variety of stories to be told on our screens. Keep up with everything heading to the big screen this year with our 2020 movie release date schedule.
Your Daily Blend of Entertainment News
Your Daily Blend of Entertainment News
Thank you for signing up to CinemaBlend. You will receive a verification email shortly.
There was a problem. Please refresh the page and try again.