The 10 Best Matthew McConaughey Movies, Ranked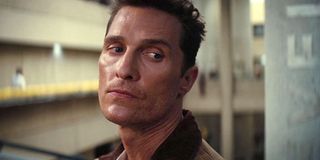 (Image credit: (Warner Bros))
It's been close to thirty years since we first heard Matthew McConaughey utter the words "alright, alright, alright" in Dazed and Confused. The phrase not only remains in the actor's tool belt but, in our collective pop culture. McConaughey could have become a legend for just that right then and there, but throughout his career he's challenged himself with a ton of impressive movie performances.
Matthew McConaughey has been a frequent leading man of rom-coms, a capable adventure star, a comedic talent and in-demand drama actor. He has 70 acting credits to show for it and a Best Actor Oscar. As he steps into Guy Ritchie's ensemble flick, The Gentlemen this weekend with the likes of Colin Farrell, Hugh Grant and Henry Golding, check out these essential McConaughey movies, ranked!
10. Magic Mike (2012)
Throughout the history of Hollywood, it's often been on the shoulders of female actresses to look sexy and bare it all. Channing Tatum switched things up when he decided to star and produce Magic Mike, a male stripper film loosely based on his own experiences in the industry when he was 18 years old. Magic Mike was a phenomenon when it came out, making $167 million globally on a measly $7 million budget.
Matthew McConaughey plays the club owner of the Tampa strip club being explored in the film. He's a greedy businessman and confident dancer in his own right. Although a strip scene was not originally written for his character, the actor actually asked for one that was later written in. His role was so celebrated that he even got some Oscar buzz for Dallas, though he was snubbed – just like J-Lo's Hustlers stripper role.
9. Contact (1997)
McConaughey really began to gain prominence back in the '90s. It would later lead into a string of rom-coms still replayed on cable all the time. The movie that best showed off his ability to be the supportive man to a woman's leading story was perhaps Robert Zemeckis' Contact. The science-fiction classic follows Jodie Foster's Dr. Ellie Arroway as she finds proof of alien intelligence and sets out to make "contact" with it.
Matthew McConaughey plays a writer and Christian philosopher named Palmer Joss, who challenges Dr. Arroway's atheist beliefs and makes for an interesting polar opposite to Contact's heroine. The pair's conversations inject romantic tension as they have a powerful discussion between science and God. The actor adds weight to Jodie Foster's performance and challenges the audience too.
8. Amistad (1997)
In the same year, Matthew McConaughey found another one of his early best performances in Steven Spielberg's Amistad alongside heavyweight co-stars Morgan Freeman and Anthony Hopkins. The four-time Oscar nominee told the true story of the 1839 legal battle involving the rights of a group of African tribesmen who were abducted to become slaves by a Spanish owned ship.
McConaughey plays the role of lawyer Roger Sherman Baldwin, who is hired to defend the African men in court and proves they were sold to the Americas illegally. Today, Amistad is an underrated historical drama that is worth a look back on. The now more famous Djimon Hounsou and Chiwetel Ejiofor have roles and McConaughey rocks an awesome colonial wig!
7. The Lincoln Lawyer (2011)
Speaking of Matthew McConaughey playing a lawyer, he does it a few more times in his career, in 1996, in A Time To Kill and more recently in The Lincoln Lawyer. Between 2011 and 2014, when the actor moved away from rom-coms are started picking up some serious work, it was coined as the "McConaissance". As you'll see, a majority of this list takes place during this era and The Lincoln Lawyer was the first movie that marked its beginning.
Brad Furman's 2011 neo-noir legal thriller centers on Mickey Haller. He's a fictional lawyer who literally operates his business out of his Lincoln Town Car. The movie follows Haller as he defends the son of a wealthy LA businessman's assault case. However, he connects the dots to a previous case. It twists into an intense legal ride and McConaughey's performance is gripping.
6. The Wolf Of Wall Street (2013)
Matthew McConaughey has a knack for stealing the spotlight in supporting roles too, and his role in Martin Scorsese's The Wolf of Wall Street is a prime example. In the critically-decorated crime drama, the 50-year-old actor plays senior broker Mark Hanna, who introduces Leonardo DiCaprio's Jordan Belfort to the sex and drug-filled life of excess the movie taps into.
The actor plays a real-life person who really did tell Belfort about his ideals focused on cocaine, masturbation and hookers. McConaughey's role is incredibly memorable in a movie full of memorable performances. Especially, that memeworthy chest thump that is nothing short of iconic.
5. Kubo And The Two Strings (2016)
Another supporting role McConaughey crushes is in Laika's Kubo and the Two Strings. This is the stop-motion studio's best entry and the actor is a vital part of the comedic and emotional balance the movie must strike. Set in feudal Japan, a young boy named Kubo goes on an adventure to find his father's armor with the assistance of a wooden snow monkey come to life (played by Charlize Theron).
McConaughey plays a large beetle in the film, who has a quirkiness about him that you just wouldn't expect a performance by the actor could reveal. His character breaks a lot of tension that the film's dire circumstances set up and has a glowing chemistry with the rest of the voice cast as Kubo learns about a stunning connection between them.
4. Mud (2012)
One of McConaughey's most critically-acclaimed and most little-seen movies is 2013's Mud. The coming-of-age drama from Jeff Nichols follows the curious adventure of two boys (played by X-Men's Tye Sheridan and The Maze Runner's Jacob Lofland), who come across a fugitive named Mud, hiding out on an island in the Mississippi. Of course, Matthew is Mud.
He tells the boys a series of fantastic stories about how he ended up in his solitude, and they agree to help him reunite with the love of his life (played by Reese Witherspoon). The movie completely bombed at the box office but boasts a near-perfect 97% on Rotten Tomatoes. McConaughey plays between his history of being the hero and villain well here, blurring the lines between what to expect from Mud.
3. Dazed And Confused (1993)
Coming into the top three and cream of the crop of Matthew McConaughey's movies, of course Dazed and Confused earns a place here. It's the most McConaughey movie to ever McConaughey. It was the big break that propelled the actor into where he is today – even if he's just one of many huge names in Richard Linklater's comedy, also including Ben Affleck, Milla Jovovich and Parker Posey -- it's certainly still most associated with the actor's David Wooderson.
McConaughey plays a 20-something charmer who still hangs around the high school crowd. The movie itself revolves around the last day of school happenings of a Texas high school in 1976. It's got nostalgic elements of the era, such as hazing, getting high, parties and a bit of romance. It's his breakout role.
2. Interstellar (2014)
And how can we forget Matthew McConaughey's collaboration with Christopher Nolan for his 2014 space epic, Interstellar. The movie was the director's first project after finishing the Dark Knight trilogy and it tells a particularly emotional story about fatherhood across time and space. Once you've seen McConaughey's Cooper break down in tears as he watches his beloved "Murph" grow up in front of his eyes from far away in space, you'll never forget it.
The actor plays a NASA pilot and engineer who goes on an important mission. He is wrestling with leaving his two children behind and they are wrestling with feelings of abandonment. Between Han Zimmer's incredible scoring and it's weird third-act twist, Interstellar is definitely among the best movies he has ever done.
1. Dallas Buyers Club (2013)
At No. 1 of Matthew McConaughey's best movies is his Oscar-winning role in Dallas Buyers Club. Not every distinguished actor gets a gold trophy for his best performance, but in his case, they hit the nail on the head. McConaughey is absolutely heartbreaking as Ron Woodroof, an AIDS patient who smuggled unapproved pharmaceutical drugs into Texas to treat himself and other patients and meets Jared Leto's HIV positive, trans woman, Rayon.
Here, McConaughey leans into his strengths as a cowboy-donning Texan, but pushes it to the absolute extreme of his acting potential. It's highly-regarded as his best performance to date and without him at the center of the flick – which included a huge physical transformation – it feels like cinema would have suffered a great loss.
There you have it. He's had quite a career thus far, hasn't he? Do you agree? Are these Matthew McConaughey's best movies? Or would you have included another? Sound off in the comments and vote for your favorite of his movies in the poll below! McConaughey stars in The Gentlemen, in theaters on January 24.
This poll is no longer available.
Your Daily Blend of Entertainment News
YA genre tribute. Horror May Queen. Word webslinger. All her writing should be read in Sarah Connor's Terminator 2 voice over.