Christian Bale And Matt Damon Warn About Losing Weight For Movies Like Ford V Ferrari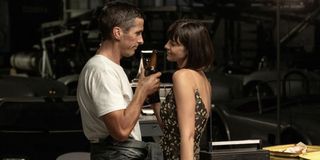 If you've seen Ford v Ferrari, or even the trailers leading up to James Mangold's new flick, you should know Christian Bale did a lot to change his physical appearance to resemble that of real-life driver Ken Miles. It's not the first time he's undergone major weight loss for a role, but it turns out the actor and his co-star Matt Damon worry about this sort of body change becoming the norm.
In a recent interview, the two actors spoke out to warn their fellow Hollywood brethren about what rapid weight changes can do to a person over time. Christian Bale is perhaps one of the foremost experts on these weight changes, having just gained a ton of weight to play Dick Cheney in Vice, only to lose that weight plus more for Ford v Ferrari. He said:
On the bright side, it's good that Christian Bale was able to lose the Vice weight, but he yo-yoed quite a bit in his preparation to play Ken Miles right afterward, although he also told Yahoo! He was "killing two birds with one stone" by making sure he didn't keep all the extra weight from the political biopic (which would have been unhealthy) while also getting to the point where he was better able to "fit into a GT40."
The actor put on 40 lbs for Vice. He lost 70 lbs to then play Ken Miles. Those are big changes to happen in a relatively short timespan apart from one another. It's also not the first time Christian Bale has gained or lost weight for a role. In fact, he's done it myriad times.
Related: 6 Drastic Ways Christian Bale Changed His Looks For A Role
If you are wondering why Matt Damon also got into this debate, given he seems to be about an average size in Ford v Ferrari, he also spoke out about losing weight for a gig, previously. Back when he filmed Courage Under Fire, he says he tweaked his weight to get down to a meager 130. Courage Under Fire also wasn't the only time Matt Damon changed his weight for a role, but he also talked about how that particular weight change was a really hard situation:
The good news for these celebrities is that they are working with nutritionists and personal trainers to do this as safely as is possible, but there is some risk to putting your body through this type of duress continuously.
In any case, Ken Miles was a wiry guy and Christian Bale really wanted to play him, but previously ahead of the release of this weekend's Ford v Ferrari the actor did admit he's really ready to quit the ups and downs of weight gain and weightloss, noting,
At some point in nearly every actor or actresses career, a role comes along in which weight gain or weight loss -- or at the very least getting in crazy shape – has to be a priority. Granted, Christian Bale has made these changes more often than most actors, and also more aggressively. We'll have to wait and see if Ford v Ferrari really does end up being the last time.
At the end of the day he just hopes moments like when Jared Leto lost weight for Dallas Buyers Club don't become the norm. It's interesting because we've been talking a lot about Bale's weight in Ford v Ferrari over the last few weeks, but it's not really a central component to the movie, other than getting the actor to look a bit more like his real-life counterpart. Granted, it's not a bad approximation, but Christian Bale does seem to be skeptical that the reasons behind his commitment to the weight gain and loss have been good ones.
You can see Christian Bale looking trim as Ken Miles and Matt Damon looking fit as Carroll Shelby in Ford v Ferrari, out in theaters this weekend. Or take a look at what else is coming with our full movies schedule.
Reality TV fan with a pinch of Disney fairy dust thrown in. Theme park junkie. If you've created a rom-com I've probably watched it.
Your Daily Blend of Entertainment News
Thank you for signing up to CinemaBlend. You will receive a verification email shortly.
There was a problem. Please refresh the page and try again.