Why Linda Hamilton Wanted Sarah Conner To Be Fat In Terminator: Dark Fate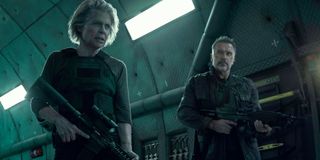 CinemaBlend participates in affiliate programs with various companies. We may earn a commission when you click on or make purchases via links.
As we come to the what feels like, but isn't officially considered the close of the Terminator series, Linda Hamilton has told some pretty awesome stories about why she decided to return for Terminator: Dark Fate. But perhaps the best, and funniest, story about Sarah Connor's return to the land of the living is that one of the concepts Hamilton really wanted to tackle was that of a fat Sarah, if only to shock the audience.
I recently interviewed Linda Hamilton to commemorate the home video release of Terminator: Dark Fate, and the woman who made Sarah Connor a sci-fi icon revealed to me that she was looking for an aspect to her return, with this particular intent in mind:
The image of an out of shape Sarah Connor strolling in to save the day in the same killer action sequence that saw her rescue Natalia Reyes' Dani Ramos and Mackenzie Davis' Grace could have been more interesting than the simple sight gag it would obviously inspire. In fact, it could have been something amazing and cathartic.
Warning: spoilers for Terminator: Dark Fate are now in play.
With John Connor's surprising death causing a massive shift in the timeline, as well as a huge amount of grief in Sarah's life, Terminator: Dark Fate showed us a more vulnerable side of the woman who had previously transformed from a carefree waitress to the ultimate doomsday prepper.
So just as we saw her transform between the first two installments of the Terminator saga, the revelation that Sarah Connor hadn't really been taking care of herself between 1998 and 2019 would have made her jaw-dropping return all the more shocking. Which is exactly what Linda Hamilton wanted to give the audience when she decided to come back in the first place.
Though she wasn't able to climb into a fat suit and get a training montage in during the events of Terminator: Dark Fate, Linda Hamilton did get to shock the audience when she was announced as coming back to the franchise for the first time since Terminator 2: Judgement Day.
Further explaining her motivations behind this latest performance in the role she made so memorable, there are two specific words that Linda Hamilton wanted to inspire moviegoers to say in response to her cinematic presence:
Armed with the mantra of "Holy fuck!" as the reaction she wanted to bring into the world when she stepped into frame in Terminator: Dark Fate, Linda Hamilton has been candidly honest about being finished with the role of Sarah Connor. At this point in time, there just doesn't seem to be any "Holy Fuck" moments left to shock the audience, and in turn, Linda's interest in providing such a reaction. Even with those facts in mind, she also hasn't totally written off a potential follow-up.
As she told me earlier in this same interview, should the right opportunity come along for Sarah Connor to continue her Terminator adventure, Linda Hamilton would be potentially game to come back once again. But as established above, it has to be something that really grabs her attention, as well as the audience's. Otherwise, it just feels like an ornamental exercise in diminished returns.
The box office results of Terminator: Dark Fate's theatrical release late last year leave any chance of another installment very much in question. Then again, the status of the James Cameron-created series has been previously scrutinized in a similar fashion, and just when the world was ready to give up, a new set of producers would saddle up to bring the fight to Skynet/Legion once again.
It's that sort of tenacious life blood that has me wondering that if there was going to be another mission to prevent the apocalyptic battle between humans, why shouldn't the gatekeepers of that potential story allow "Fat" Sarah Connor to bring Linda Hamilton along for the ride. Thinking back on the ending to Terminator: Dark Fate, an opportunity to do just that may have actually presented itself in the final moments of director Tim Miller's would-be trilogy starter.
As Dani is now supposed to be the savior of humanity, and the burden is lightened to a certain degree on Sarah's shoulders, maybe she does decide to take it easy and start enjoying herself through the junk food she's obviously denied herself in the past. Of course, if we're talking about a hypothetical sequel to Terminator: Dark Fate, it wouldn't be long before evil started knocking on the door of our heroes, which would mean that Sarah Connor would need to get back into fighting form, or adjust her tactics to suit her new physique.
It'd truly be enough to make any Terminator fan say "Holy fuck!" to see the overall hero of the historic sci-fi franchise in another unexpected physical transformation. After seeing Sarah the Waitress, Sarah the Warrior and Sarah the Vulnerable Warrior, whatever you would name this new phase of Sarah Connor's life plan is enough of a change to be a stunning surprise.
For now, Terminator: Dark Fate could be the resolution of franchise history, complete with a new and exciting arc for Sarah to close her personal adventure out with. But if there are plenty who are keeping hope alive for another round of mayhem, so maybe it's a good time to start drawing up some concept art and fitting Linda Hamilton for a prosthetic suit; just in case.
Meanwhile, you can currently enjoy the home video release of Terminator: Dark Fate, as the film is now available on 4K UHD, Blu-ray, and DVD.
Senior Movies Contributor
CinemaBlend's James Bond (expert). Also versed in Large Scale Aggressors, time travel, and Guillermo del Toro. He fights for The User.