Parasite: Why You Shouldn't Sleep On This Thrilling Best Picture Nominee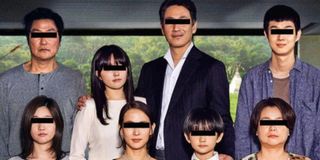 In case you've been tuning out the awards season chatter for the past couple of weeks, you may not have heard the sweeping waves of praise that kept co-writer/director Bong Joon-ho's dark dramedy Parasite in the awards season conversation. There's also a good chance you may not have seen the film for yourself, which is unfortunate, because to sleep on this thrilling Best Picture nominee at the upcoming Academy Awards is a big mistake.
For several equally important reasons, you really should see Parasite for yourself; especially with Sunday's Oscars looming ever closer. So without spoilers, and with a lot of heartfelt appreciation, it's time to convince you, the audience, why this film is a crucial part of your Oscar night homework through the rest of the week.
You Need To See Parasite Before The Internet Spoils It For You
With the speed and reflexes of a jungle cat, the internet has already latched onto key scenes from Parasite and turned them into GIFs and memes. In between the congratulations fans have been giving Bong Joon-ho and his film on various social media platforms, there have been spoilers for key moments, examinations of certain plot points and even just poignant quotes from some of the sterling dialogue.
It may not ruin the entire movie, but trust me when I tell you that Parasite is best enjoyed with as little knowledge or expectations as possible. Everything that happens in this story pieces together to make an overall picture that needs to be experienced rather than read about.
The Rhythm And Pacing Of Parasite's Twists Is A Beauty To Behold
To see Parasite unspoiled is to truly take pleasure in the nuanced turns that writers Bong Joon-ho and Han Jin-won use to tell the story of Kim Ki-woo (Choi Woo-shik) and his family's dealings with their upper class counterparts, the Park family. The less details provided, the better, but on the surface, the Kims and the Parks go through some interesting scenarios, as the two families become all the more closer. All in one, Parasite is a dark comedy, a sociocultural thriller and a bittersweet family drama.
The further the picture's story moves along, the more intricate the puzzle becomes, thanks to its effortless navigation of those various genres. Going in unspoiled is not only the best way for a new audience to experience Parasite, it also allows viewers to see those twists in the best light. That's not to say that the film doesn't hold up to further viewings, but in order to get the best experience out of the various thematic shoes that drop, those twists need to unfold in their own unspoiled rhythm.
If You're A Fan Of Bong Joon-ho's Snowpiercer, You'll Definitely Love Parasite
Bong Joon-ho's Parasite is the latest in a long line of films that have seen the writer/director approaching a recurring theme in his work. That running thread throughout all of Joon-ho's work is sympathy for the less privileged in a world that looks to exploit the lives and means of others. So fans of Snowpiercer are definitely going to be able to latch onto this latest film.
While Parasite is more grounded in reality than that previous film, as well as Bong Joon-ho's Okja, the class divide between the Kim family and the Parks is the grist for the story mill. But instead of using the sci-fi trappings of his previous work, Joon-ho uses a very realistic story that retains the writer/director's unique sense of humor from past films.
Parasite Is Threatening To Take The Oscars By Surprise With Several Key Wins
If you're one of those folks who likes to keep track of the road to the Oscars, you've probably heard that films like 1917 and Joker are maintaining frontrunner status in the race. As of late though, the narrative has shifted in favor of another contender. As Parasite has racked up 6 Academy Award nominations, its overall awards season profile has risen with several big ticket wins from various professional guilds in Hollywood.
But the crowning achievement so far has been Parasite's BAFTA wins for Best Original Screenplay and Best Film Not In The English Language. Building up a heavy buzz for its awards prospects, this tale of class disparity has jockeyed into a pretty solid position as an Oscar contender.
The New HBO Show Based On Parasite Will Make Much More Sense
As Parasite has climbed the ladder to awards fame, and the show has gone on to become poised to be a TV favorite thanks to a new HBO series expanding its universe, Bong Joon-ho's vision feels like a modern classic in the making. As Joon-Ho and executive producer Adam McKay have made a deal to turn this story to a limited series, there's a lot of potential for this story to grow.
The plan to tell stories in-between the crucial events of Parasite's film incarnation, audiences should go into that series with a better understanding of the film that inspired it. Seeing this film not only keeps you in the pop culture conversation for now, it also promises to pay future dividends for those who stay with it for the long haul.
While it's still pretty early in the film's lifespan, it's never too early to get in the ground floor with a new favorite. So before the world becomes so enamored with this thrilling Best Picture nominee that they can't stop spoiling it for the world, you're going to want to see Parasite for yourself. And you're in luck, as the film is pretty widely available through various methods of viewing.
Parasite is in limited theaters, as some chains have added screenings to celebrate the film's awards contention. So if you're more of a big screen person, you should check your local listings for availability. However, if you're looking to enjoy this mind-blowing film at home, you can rent it on digital HD, as well as Blu-ray and DVD. Either way, enjoy Parasite, and be sure not spoil it for anyone else who hasn't seen it!
Senior Movies Contributor
CinemaBlend's James Bond (expert). Also versed in Large Scale Aggressors, time travel, and Guillermo del Toro. He fights for The User.
Your Daily Blend of Entertainment News
Thank you for signing up to CinemaBlend. You will receive a verification email shortly.
There was a problem. Please refresh the page and try again.