Parasite Director Says Series Will Expand On Stories From Film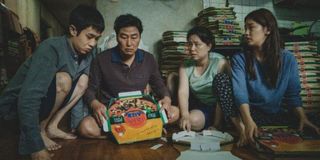 Bong Joon-ho has been making waves on the awards circuit already in 2020 thanks to some Golden Globes wins and now some Academy Award nominations for Parasite, and the news that the film would become a limited series at HBO met with mixed reactions from the internet. For some, the film is perfect as is and doesn't need a TV show. For others, the show has the potential to be great. Now, the Parasite director has shared that the show will expand on stories from the movie.
The Parasite limited series hails from Bong Joon-ho himself as well as Succession's Adam McKay. As Succession won some of the biggest TV categories at the 2020 Golden Globes, this could be a winning team to bring Parasite to the small screen. Speaking about turning the film into a limited series, Bong said this:
The Parasite TV series won't be sequel to the story already told with so much success on the big screen, but will rather "expand" on what couldn't make it into the movie. Parasite's run time is a little over two hours, whereas a limited series will afford Bong Joon-ho, Adam McKay, and the production team considerably more time to tell the story. Even if it's one of HBO's shorter limited series, a la Helen Mirren's four-part 2019 mini Catherine the Great, the TV production of Parasite would surely run longer than the film.
While The Irishman is an example of a movie with a runtime rivaling that of some series, few films have upward of three hours to tell its story. Parasite was clearly a hit without needing more hours of content, but who's to say that the limited series won't be at least as satisfying as the film? Personally, I can think of more than one movie that would have been improved if it had been produced as a limited series rather than a movie with less time to tell stories.
Bong Joon-ho went on in his comments to Variety to explain his goal with the Parasite limited series:
A high quality limited series that is more of what was great about Parasite with the man who brought Parasite to the big screen in the first place could be great, right? Still, the series will undoubtedly have some key differences from the film, and Bong Joon-ho has stated that he and Adam McKay haven't yet decided if it will be an English language adaptation or set in South Korea, as the film was.
Considering some of Bong Joon-ho's comments about subtitles at the Golden Globes, it would be fitting if the limited series is set in South Korea, but it wouldn't be shocking for an HBO project to be produced in English. Only time will tell. For now, you can always look forward to streaming Parasite (along with 10 other Oscar nominees) ahead of the 2020 Academy Awards in February.
Resident of One Chicago, Bachelor Nation, and Cleveland. Has opinions about crossovers, Star Wars, and superheroes. Will not time travel.
Your Daily Blend of Entertainment News
Thank you for signing up to CinemaBlend. You will receive a verification email shortly.
There was a problem. Please refresh the page and try again.