How Sonic The Hedgehog Got Screwed Out Of A Box Office Milestone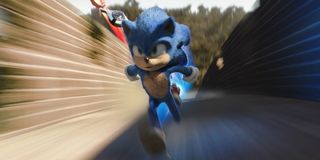 CinemaBlend participates in affiliate programs with various companies. We may earn a commission when you click on or make purchases via links.
Back in February, Sonic The Hedgehog hit theaters and quickly became one of the biggest hit movies of 2020 so far. In fact, it also became a big hit for a comic book movie, surpassing Detective Pikachu and its $144.1 million domestic gross to become the highest grossing video game movie in the United States. But thanks to theaters shutting down shortly after, there's another box office milestone it totally got screwed out of.
In unadjusted domestic grosses, Sonic The Hedgehog is now indubitably the king; however, there's a pesky thing called inflation out there. Initially, Pokemon: The First Movie only made $85 million domestically in the late nineties. The original Mortal Kombat made $70 million cumulatively at the domestic box office back in 1995. Adjusted for inflation the highest-grossing domestic video game movie brought in $156 million dollars in today's money.
If you look at video game movie worldwide totals (compiled handily by The Numbers), Sonic The Hedgehog would still have a ways to go to catch up with Warcraft and Pokemon: Detective Pikachu. I don't think it would have been able to get to the point where worldwide it was as beloved as Warcraft, which made nearly $439 million globally, although even that is hard to tell as Sonic's China release date was postponed. However, the inflated domestic gross of $156 million was obtainable for our blue furry and his movie. It just needed a few more weeks of money-making to get there.
Unfortunately, as theaters started shuttering domestically, Sonic The Hedgehog went from making over a million dollars on March 14 and hundreds of thousands on other days toward the end of its run to one weekend where box office was majorly down – on Thursday, March 19 it made only $9,000. It's around that point that theaters were announcing they were shuttering. Because of this, Sonic The Hedgehog ultimately landed at $146 million domestically at the box office.
That's enough to edge out the previously mentioned Detective Pikachu in domestic grosses, but it's not enough for the movie to hit the $156 million it would have needed to be the big winner adjusted by inflation.
It's just weird to think about because given a few more weeks of time, Sonic could have in fact hit another box office milestone. While it had several solid weeks in theaters, the video game flick didn't get the long shelf life a lot of movies, think Knives Out, have gotten. So, it's certainly an interesting if futile exercise to wonder what could have been. In some ways, the movie really did get screwed.
Still, Sonic The Hedgehog's box office intake is nothing to sneeze at. The movie ultimately made $306.8 million worldwide. It had a very successful run despite its redesign setback. Now, Paramount has released the movie onto VOD early in order to make sure those who didn't get to catch it during its theatrical run have the chance to do so from home now. You can literally watch it at home just a short few weeks after its box office run, which would have been unheard of a few months ago.
The movie has been available on Digital since March 31, but it will be a while before those hard copies are available for fans. You'll be able to catch the movie on Blu-ray and DVD starting on May 19, which is in the traditional window for that type of release. We're actually giving away copies right now, if that's something that interests you as well.
Your Daily Blend of Entertainment News
Reality TV fan with a pinch of Disney fairy dust thrown in. Theme park junkie. If you've created a rom-com I've probably watched it.