5 Ways Walt Disney World And Disneyland Could Be Very Different When They Reopen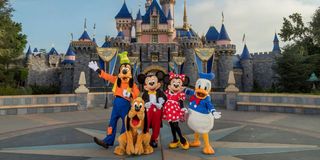 Theme parks are closed across the country. Disneyland and Walt Disney World have never seen closures like this before. While we briefly hoped things might only be down for a couple weeks, we have no idea when the Disney parks will reopen, and recent comments (at least in California) have implied it could be months before Disneyland is open again.
What's almost certain is that even when when we're no longer being asked to isolate ourselves, it's unlikely that the virus that caused all this will actually be gone. Some basic precautions will likely still need to be taken. Even once Walt Disney World is open, some people might still be too concerned to make plans to visit.
To combat this, Disney has already talked about instituting new procedures in order to help boost the public's confidence that places like Disneyland and Disney World are safe. Quite often when new safety procedures are instituted, they remain long after the initial fears have subsided. So what sorts of changes could we see when the parks reopen, and how many of them may become the new normal?
Temperature Checks
To start with, we have the one precaution that Disney Executive Chairman Bob Iger has already floated as a possibility. We could see screenings at security that, in addition to checking your bags, will also check your temperature to make sure you're not running a fever. Certainly whether you have a more traditional flu or something more serious, any virus is more likely to be spread in a crowded place like a theme park. There are a lot of questions about how something like this would work on a large scale. Never mind the fact that in many cases, people can still shed a virus even when they're not showing symptoms.
But however something like this would be handled, it's not crazy to think that if this is ever started, it will remain for the long haul, if only to help ensure to guests that Disney is prepared to handle another situation like this one in the future.
Virtual Queues
In an attempt to help deal with the popularity of the Rise of the Resistance attraction at Star Wars: Galaxy's Edge, both Disneyland and Walt Disney World instituted virtual queues. Rather than just standing in line or even using FastPass, you used an app to secure a spot in line, and then went to the attraction when you were called. Recent updates to Disney apps have implied that these virtual queues might already be looking at expanding. Such things make extra sense now, because stand-by lines are one place where large numbers of people gather and are intentionally compressed close together.
It should be pointed out there are some significant logistical issues to implementing virtual queues across the board. Theme park spaces are basically designed with the assumption that large numbers of people are standing in lines at any given moment. If all those people are pulled out of line, then the common walkways would become incredibly crowded. Still, this may be where things will head if these other issues can be solved.
Ticket/Annual Pass Reservations
One of the ongoing difficulties that all Disney Parks have had is that they're simply too popular. While ticket prices keep increasing, it seems like nobody stops going. The parks have been trying to manage their capacity for years. While Disney, of course, wants lots of people in the parks, the company doesn't want the park so crowded that nobody is enjoying themselves. Disney may need to actively limit capacity at the park when it reopens, keeping it less than full for health and safety reasons. One way that could be done is by making all tickets specific to certain days.
It used to be that you could buy a ticket to Disneyland and just use it however you want. While that's still an option, that ticket comes at a premium. The cheaper option is to book your ticket for certain days. Disneyland even recently instituted an Annual Passport that requires the guest, for several of the available dates, to book a reservation ahead of time. If enough people book certain dates, other uses of the pass may be locked out. Could we see this idea expanded to include all tickets, and perhaps most annual passes?
Higher Prices
This one sort of goes without saying. Disney Parks have been raising prices, usually just after the first of the year, every year for the last several. However, if we're going to start to see the parks intentionally holding down capacity for an extended period, we could very easily see an additional price increase, perhaps on tickets, food or merchandise. Or maybe it will be on all of the above to help offset the lost revenue from the guests they can't let in.
There will be price increases again. That's not a prediction that's tough to make, but we could see much more significant price increases as part of a complete restructuring of how admission even works.
Smaller Crowds
If there's a silver lining to all the new things we might see when Disneyland and Walt Disney World reopen, it likely will be that we could see smaller crowds. It's certainly unlikely that the parks will be jumping straight back into their normal crowd numbers the day they reopen. Many will be staying away, but Disney may intentionally limit the crowds at first, in an attempt to keep something resembling social distancing going --as much as such a thing is possible in a theme park-- as that will probably still be recommended., Smaller crowds would be a goal of many of these new policies I'm suggesting, but that will also end up being an unintended benefit for those that do make it inside.
And who knows, maybe if we do see policies like these being implemented, and if they end up being accepted by guests and successful for Disney, then smaller crowds could become "normal crowds." It might make booking a Disney vacation a bit more complicated and expensive, but if the end result is an easier experience that's more fun for guests, maybe it will all be worth it.
Having never experienced anything like this before, it's difficult to guess what the long term consequences will be. Things will certainly start out very different, and while we might get back to something that resembles "business as usual" for a while, it's much more likely that some of the changes we see will become permanent. We'll have to wait and see just which ones are still around years from now.
Your Daily Blend of Entertainment News
Content Producer/Theme Park Beat
CinemaBlend's resident theme park junkie and amateur Disney historian. Armchair Imagineer. Epcot Stan. Future Club 33 Member.