Mick Jagger, Spike Lee And More Celebrities Pay Tribute To Little Richard After His Death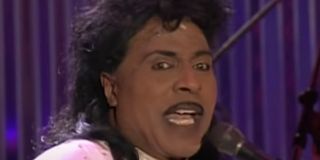 On May 9, 2020, Richard Wayne Penniman, better known to the world as Little Richard, passed away at the age of 87. Almost immediately following the news of his death, dozens of celebrities, including Spike Lee, Mick Jagger, and Bob Dylan, expressed their grief over losing the iconic musician.
Little Richard's impact on not just music, but American pop culture, cannot be understated. Frequently referred to as the Architect of Rock and Roll, his flamboyant and electric musical style has influenced countless artists across multiple generations and mediums -- and that was abundantly clear as tributes poured in.
Several of Little Richard's musical contemporaries took to Twitter to honor the icon and share the important role he played in their lives. Mick Jagger wrote that Little Richard was his "biggest inspiration" and fondly remembered the days that the Rolling Stones toured with him:
Bob Dylan penned several tweets, too, revealing how stark he feels his loss is:
The folk-rock legend also credited Little Richard with inspiring him to become a musician and with just being a generous and kind human being:
The Beach Boys' Brian Wilson, too, was quick to pay tribute to Little Richard's legacy and the important role he played in laying the foundation for rock and roll:
Elton John, too, wrote a series of tweets in which he named Little Richard as an influence, and also took the time to pay homage to the singer's music, calling "Tutti Frutti's" opening chords "the most explosive in music history" and fondly reminiscing about their 1993 collaboration:
Bette Midler made a pointed note about about the lack of credit he's often received for his work while simultaneously honoring his legacy:
Even The Beatles' Paul McCartney was quick to give Little Richard credit for his impact on his life and music:
Little Richard's legacy isn't limited to those who made music with and were inspired by him, though. Filmmakers and actors also took time to honor the late musician and share how he informed their work, too. Spike Lee shared a clip from a Nike commercial he directed starring Little Richard and Michael Jordan:
Edgar Wright revealed that the surname on a Baby Driver costume was an homage to Little Richard:
And Ava DuVernay shared a touching personal anecdote about the singer and the impact he'd had on her life:
Little Richard died in Nashville due to complications related to bone cancer. He is survived by his brother and son. The famed musician also leaved behind a storied legacy that is sure to be remembered for years to come. Keep it here at CinemaBlend for more updates from the world of movies and TV.
Your Daily Blend of Entertainment News
Your Daily Blend of Entertainment News
Thank you for signing up to CinemaBlend. You will receive a verification email shortly.
There was a problem. Please refresh the page and try again.