Tommy Boy: 11 Cool Behind-The-Scenes Facts About The Chris Farley Movie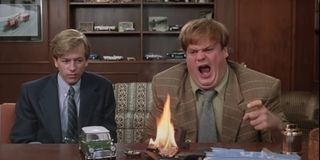 Ready to feel old? This year marks the 25th anniversary of the release of the Chris Farley and David Spade comedy masterpiece Tommy Boy. Just like pretty much everyone my age, I still remember sitting around my parents TV with my older brother watching our VHS copy so many times we could practically recite every line in the movie. We've grown older, the TV has been replaced, and that old VHS tape is long gone, but I'm still obsessed with this movie. So what do you do when you're obsessed with a movie? Find all the behind the scenes facts you can find, duh!
Scouring the internet for all the small details about my favorite movies has become something of a staple of mine these past few years, and so to celebrate one of the favorite movies from my childhood to adulthood, I went on a mission to find the coolest facts I could find. Be warned, as some of these facts will have you screaming holy schnike!
The "Fat Guy In A Little Coat" Routine Happened In Real Life
The "Fat Guy In A Little Coat" routine has gone down as not only one of the memorable scenes in Tommy Boy but also one of the most hilarious moments of Chris Farley. But the scene wasn't something that materialized in the script. In fact, Farley had been doing the bit behind the scenes of Saturday Night Live, where he and co-star David Spade shared an office.
During a 2015 appearance on Conan, Spade explained he had grown tired of the "Fat Guy In A Little Coat" routine and that Farley would constantly try to get him to laugh, stating:
Chris Farley And David Spade Had To Balance Filming With Their SNL Schedule
One of the craziest things about the making of Tommy Boy is that production coincided with '94-'95 season of Saturday Night Live, where Chris Farley and David Spade were still full-time castmembers. This made for a chaotic production schedule as the two starts would have to balance their time between SNL in the New York and filming of Tommy Boy in Toronto.
Associate Producer Michael Ewing explained in Film School Rejects' Fat Men, Little Coats: The Oral History Of Tommy Boy just how hectic it got for the film's leading men when filming was held during the middle of SNL, stating:
The Movie Had To Change Its Original Title Thanks To Billy Madison
If it weren't for Adam Sandler's breakthrough role in Billy Madison, we probably wouldn't have seen the version of Tommy Boy we all know and love (except for Roger Ebert, but more on that later). When both films were in pre-production, the movie that would become Tommy Boy was going by the title Billy The Third: A Midwestern, as director Peter Segal remembered in the Film School Rejects Oral History, stating:
Segal went on to explain that he and writer Fred Wold (who also wrote for SNL) sat down and reworked the script to focus on the relationship of David Spade and Chris Farley, settling on the story we all know today.
Chris Farley Insisted On Doing All Of The Physical Comedy Himself
One of the things that set Chris Farley apart from other comedic actors of his time was his commitment to his roles. If a scene called for him to fall flat on his face on a coffee table while crashing to the floor, Farley was going to do it. And that's exactly what happened on the set of Tommy Boy, as Michael Ewing remembered during the Behind The Laughter behind the scenes documentary, stating:
Chris Farley Was Notorious For Downing Large Amounts Of Cappuccino On Set
It's no secret that Chris Farley had issues with a multitude of substances, but one of the late comedian's vices that is somehow surprising and not surprising at the same time is his addiction to coffee and cappuccinos. While filming Tommy Boy, Farley was known to take down dozens of cups of joe every day on set, as members of the cast and crew shared in the making of documentary that accompanied the DVD release. Throughout the section on Farley's love of cappuccino, co-star David Spade had this to say about the first day of shooting:
But Spade wasn't alone, as Bo Derek remembered watching in amazement as Farley prepared for one of the scenes they shared together, remembering:
Chris Farley and David Spade Would Often Act Like An Unhappy Married Couple On Set
For most of Tommy Boy, Chris Farley and David Spade's characters have a contentious relationship and don't really become the best of friends until the final act. Well, that was sometimes the case for the two actors on the set of the movie, as the pair would often act more like an old married couple who would go hours without speaking to one another or have passive aggressive episodes for the rest of the cast and crew to witness.
During the making of documentary, Bo Derek remembered how the Farley and Spade would act during one of their episodes, stating:
Chris Farley and David Spade Fought Over Rob Lowe
Did you know that David Spade and Chris Farley got into a physical altercation on the set of Tommy Boy? Well, it happened, but it wasn't over a girl or who would get the better line in a scene. No, it was over Rob Lowe, who appeared in an uncredited role as Tommy's step-brother Paul Barish. Spade and Lowe revealed the details behind the story during a 2015 appearance on The Late Late Show With James Corden.
During the appearance, Spade explained that he and Farley both really liked hanging out with Lowe on and off the set, with Farley being a little too obsessed with the uncredited co-star. One night when they got to Toronto for filming, Farley said he wasn't feeling well and went to bed early. When Farley found out the next day that Spade and Lowe went out for drinks, the following happened:
Later in the day, when Spade thought everything was over and done with, he saw Farley rushing towards him, remembering:
Matthew McConaughey Was Almost Cast In The Role That Went To Rob Lowe
Rob Lowe was one of the first actors attached to the project, but delays early on in pre-production almost caused the future Parks And Recreation star to almost be recast. The producers even went as far as to go through the casting process due to Lowe's uncertainty. One of the actors who auditioned for the role was none other than Matthew McConaughey, who had recently made a name for himself after a scene-stealing performance in Dazed And Confused.
Speaking with Film School Rejects for the Tommy Boy Oral History, director Peter Segal had this to say about the whole situation:
Rob Lowe Came Up With The Iconic Cow Tipping Scene
Early on in Tommy Boy, we're given one of the best moments of the movie and Chris Farley's career with the iconic cow tipping scene with him and Rob Lowe. But the scene wouldn't have been there if it weren't for Lowe, who pitched the idea to the writing team early on in pre-production, which he explained in the making of documentary, stating:
The On-Screen Chemistry Shared By Chris Farley And David Spade Inspired Shrek
It's not the biggest secret in Hollywood, but before his death in 1997, Chris Farley was hard at work on a little animated film by the name of Shrek. After Farley's death, Mike Meyers was cast as his fill-in and much of the movie was drastically changed. One thing you might not know about Shrek is that Chris Farley and David Spade's pairing in Tommy Boy helped inspire the film's writers come up with the relationship between Shrek and Donkey, as Peter Segal told Uproxx:
Despite Being A Hit With Moviegoers, Tommy Boy Fell Flat With Critics, Especially Roger Ebert
The late Roger Ebert will probably go down as the most influential film critics in the history of movie journalism, and there's a good reason for that. But sometimes, good old Roger missed the mark and gave some of the most beloved movies really bad reviews. This was very much the case for his 1995 review of Tommy Boy, which I will let Ebert explain in his own words:
And that is just the opening paragraph. Woof.
Those are just 11 behind the scenes facts about the Chris Farley classic Tommy Boy. If there is something you think I missed, make sure to let me know in the comments below. And make sure to check back on CinemaBlend to see what David Spade has been up to all these years. But until then, I need to go call my brother and see about setting up a Tommy Boy virtual watch party.
Your Daily Blend of Entertainment News
Philip grew up in Louisiana (not New Orleans) before moving to St. Louis after graduating from Louisiana State University-Shreveport. When he's not writing about movies or television, Philip can be found being chased by his three kids, telling his dogs to stop yelling at the mailman, or yelling about professional wrestling to his wife. If the stars properly align, he will talk about For Love Of The Game being the best baseball movie of all time.
Your Daily Blend of Entertainment News
Thank you for signing up to CinemaBlend. You will receive a verification email shortly.
There was a problem. Please refresh the page and try again.