The Best Movies On Starz Right Now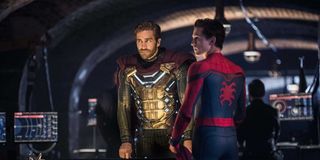 Once upon a time, Netflix and other streaming services didn't exist. If you wanted to watch a blockbuster movie, then you either had to wait for a heavily edited version (if it was an R-rated film or had a few "bad words.") to appear on basic cable, or you had to purchase a premium cable package that included channels like HBO or Starz. It was a scary time. Because all these streaming services now exist, people may have forgotten that Starz and other premium channels still operate. These channels offer a lot of great content even before they reach Netflix or Hulu. There are so many exciting movies streaming on Starz.
To keep you away from the endless black hole of movie browsing, here is a list of some of the popular, entertaining, and award winning movies available to stream on Starz.
Once Upon A Time In Hollywood
Brad Pitt and Leonardo DiCaprio star in the latest Quentin Tarantino thrill ride. Once Upon a Time in Hollywood follows Rick Dalton (DiCaprio), who realizes that his fame is fleeting. He travels to Italy to try reinventing his career. Rick brings his loyal stunt man Cliff Booth (Pitt) along with him. Things take an unexpected turn when the Manson family plans to kill actress Sharon Tate (Margot Robbie). Brad Pitt earned his first Academy Award for Best Supporting Actor for playing Cliff Booth.
Stream it on Starz here.
Also try: Pulp Fiction, Snatch
Schindler's List
Steven Spielberg directed Schindler's List, a movie about how German businessman Oskar Schindler (Liam Neeson) and his wife Emilie Schindler (Caroline Goodall) save more than a thousand refugees from the Holocaust during World War II. Ben Kingsley and Ralph Fiennes also star in this powerful drama.
Stream it on Starz here.
Forrest Gump
Tom Hanks gives one of his most praised and memorable performances in Forrest Gump. Slow-witted Forrest Gump lives a life without limits. This allows him to accomplish amazing things like exposing the Richard Nixon Watergate scandal and becoming a ping-pong champion and celebrity. Forrest Gump's optimism inspires and touches all those that he encounters, including the love of his life Jenny (Robin Wright).
Stream it on Starz here.
Eternal Sunshine Of The Spotless Mind
Jim Carrey and Kate Winslet are a former couple who both see a specialist to have their memories removed of each other. They have a chance encounter on a train and immediately feel a connection. Eternal Sunshine of the Spotless Mind is a beautifully written movie by acclaimed screenwriter Charlie Kaufman. The ensemble cast includes Kirsten Dunst, Mark Ruffalo, Elijah Wood, and Tom Wilkinson.
Stream it here.
Fargo
In Fargo, Jerry Lundegaard (William H. Macy) is in a lot of debt and trouble. To try to solve his problems, he hires thugs played by Steve Buscemi and Peter Stormare to kidnap his wife Jean (Kristin Rudrud) and collect the ransom. As they say "the best-laid plans of mice and men often go awry." Jerry's plans quickly hit a snag when police Chief Marge Gunderson (Frances McDormand) suspects something sketchy is going on.
Stream it here.
Also try: Very Bad Things
Spider-Man: Far From Home
After the events of Avenger: Endgame, Peter Parker (Tom Holland) and his friends MJ (Zendaya) and Ned (Jacob Batalon) take a European vacation with their classmates. Peter wants to get away from the stress and heartbreak of being a superhero, but a mysterious new superhero Quentin Beck (Jake Gyllenhaal) claims danger is on the horizon.
Stream it here.
Also try: Spider-Man (2002), Spider-Man 2 (2004)
Shaun of the Dead
Shaun (Simon Pegg) and his mate Ed (Nick Frost) find themselves caught in the middle of a zombie apocalypse. They seek refuge in what else but a local pub. Kate Ashfield, Lucy Davis, Dylan Moran, and Bill Nighy co-star in this hilarious horror comedy film. Edgar Wright directs Shaun of the Dead and it kicked off the Cornetto trilogy.
Stream it here.
Scarface
Al Pacino plays Tony Montana in Scarface, a film about his rise to fame as a powerful drug lord. Michelle Pfeiffer, Steven Bauer, and Robert Loggia also star. This violent thrill ride keeps you glued until the very end.
Stream it here.
Also try: Chinatown
Night At The Museum
Larry Daley (Ben Stiller) takes a job working as a night watchman at a museum. He soon learns that the exhibits become animated at night. Ben Stiller brings his usual comedic charm to this family adventure film. Night at the Museum has become a series of films with a reboot in the works.
Stream it here.
Also try: Daddy Day Care, Cheaper by the Dozen 2
The Nutty Professor
Eddie Murphy stars in this remake of the Jerry Lewis 1960s film. Murphy plays Sherman Klump, a sweet and smart overweight man who develops a weight-loss drug that turns him into a skinnier, more devious version of himself. Murphy portrays multiple members of the Klump family in The Nutty Professor.
Stream it here.
Also try: Bowfinger
Zombieland: Double Tap
Woody Harrelson, Jesse Eisenberg, Emma Stone, and Abigail Breslin return for this Zombieland sequel. These characters have built a strong family unit over the years, but commitment phobia and smothering lead to a break in the family. Zombieland: Double Tap tries to take things up a notch with even more ridiculous and evolved zombies.
Stream it here.
Also try: 21 Jump Street
Breakfast At Tiffany's
Audrey Hepburn and George Peppard star in Breakfast at Tiffany's, a romantic classic about the romance between over the top socialite Holly Gollightly (Hepburn) and writer Paul (Peppard). This is one of Audrey Hepburn's most memorable and iconic roles.
Stream it here.
Also try: Barefoot in the Park
Mamma Mia!
Based on the Broadway musical of the same name, Mamma Mia follows Sophie (Amanda Seyfried) as she tries to discover which of her mother Donna (Meryl Streep)'s former suitors is her father. Pierce Brosnan, Colin Firth, and Stellan Skarsgard play the three potential fathers. Mamma Mia'smusic is completely comprised of ABBA songs.
Stream it here.
Also try: Rent, West Side Story
Four Weddings And A Funeral
Charlie (Hugh Grant) and Carrie (Andie MacDowell) meet at a wedding. Charlie thinks he's found the one, but Carrie returns to the USA the next day. The two then encounter each other at several other weddings and a funeral, but their timing always seems off.
Stream it here.
Also try: About a Boy
Bill & Ted's Excellent Adventure
Bill (Alex Winter) and his best friend Ted (Keanu Reeves) are in danger of failing their history class. This is a total bummer because they're trying to form a band, but Ted will be sent to military school if he fails. They get their hands on a time machine and travel throughout history searching for historical figures who can help with their final presentation.
Stream it here.
Also try: The Brady Bunch Movie, Hot Shots, WarGames
The Breakfast Club
Five high school students from different high school cliques find themselves in detention together. One Saturday afternoon, they discover they're not as different as they once believed. Molly Ringwald, Anthony Michael Hall, Emilio Estevez, Judd Nelson, and Ally Sheedy star in The Breakfast Club.
Stream it here.
Also try: Sixteen Candles, Fast Times at Ridgemont High
Pride & Prejudice
Keira Knightley and Matthew Macfadyen star in this 2005 adaptation of Jane Austen's beloved Pride & Prejudice. Spirited Elizabeth Bennet (Knightley) and Mr. Darcy (MacFadyen) have immediate chemistry but both of their stubbornness may end their romance before it even starts.
Stream it here.
The Blues Brothers
John Belushi and Dan Aykroyd star in The Blues Brothers, a concept that originated as a Saturday Night Live segment, but grew to cult movie status. Jake (Belushi) and his blood brother Elwood (Aykroyd) must get their old band back together to raise money to save their old orphanage.
Stream it here.
Also try: Animal House
Brokeback Mountain
Heath Ledger and Jake Gyllenhaal play forbidden lovers in this romantic drama. Anne Hathaway and Michelle Williams play their wives in Brokeback Mountain. In another world, these two men could love each other without bounds, but they haven't been born into a tolerant world.
Stream it here.
Dazed And Confused
Dazed and Confused follows different groups of high school students as they roam around aimlessly looking for something to do after the last day of school in 1976. The film's cast includes Jason London, Ben Affleck, Matthew McConaughey, Parker Posey, Joey Lauren Adams, and Mila Jovovich.
Stream it here.
Coraline
Neil Gaiman's novel Coraline comes alive in this stop-motion adaptation. Coraline (Dakota Fanning) finds a secret door in her new home. This door leads to an "Other World" with alt-universe versions of her family. This creepy yet brilliant animated film also includes voice work by Teri Hatcher and Ian McShane.
Stream it here.
Also try: An American Tail, FernGully
Milk
Sean Penn plays Harvey Milk in this biographical film about the politician and gay rights activist. Milk also stars Emile Hirsch, Josh Brolin, Diego Luna, and James Franco.
Stream it here.
Paranormal Activity
Paranormal Activity uses the found-footage technique to tell a story of a young couple (Katie Featherston and Micah Sloat) haunted by a supernatural presence. The style of this film sets a real scary and sinister tone that almost makes you forget that you're watching a film and not living a real life nightmare.
Stream it here.
Venom
Eddie Brock (Tom Hardy) develops superpowers after being linked to an alien symbiote. He becomes Venom, an infamous Marvel villain who becomes an anti-hero in this version of Venom.
Stream it here.
8 Mile
In 8 Mile, Eminem plays white rapper B-Rabbit. He dreams of using his passion and musical talents to escape Detroit and his lower-class lifestyle. 8 Mile also stars Mekhi Phifer, Brittany Murphy, Anthony Mackie, and Kim Basinger.
Stream it here.
Atonement
James McAvoy and Keira Knightley play young lovers Robbie and Cecilia. They have one passionate night together before being torn apart by a lie. Atonement follows the journey of Robbie and Cecilia as they fight to get back to each other. Their story is told through the eyes of Cecilia's little sister Briony (Saoirse Ronan).
Stream it here.
You no longer need a cable subscription to enjoy Starz. You can order the channel directly on platforms like Amazon Prime, Hulu, and directly from the Starz website.