Jurassic World: Dominion's Bryce Dallas Howard Recalls Reading The 'Exhilarating' Script For The First Time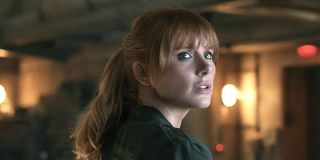 One of the perks of starring in a hugely popular franchise has to be that you get the inside scoop about it before anyone else. While the whole rest of the world is waiting for Jurassic World: Dominion, Bryce Dallas Howard is out there living her life, knowing exactly what's in store for all the characters. She obviously can't reveal any details, but she has revealed that she felt completely exhilarated when she read the script for the first time.
At this point, Bryce Dallas Howard's Jurassic World character, Claire, has definitely been through the ringer. It sounds like she won't get much of a chance to relax in Dominion, though -- at least, if you want to read between the lines of what the actress seems to be telling us about the upcoming movie. When she was asked about Jurassic World 3 and what fans can expect, she couldn't hold in her enthusiasm:
Sure, we don't exactly know any of the major plotlines or what to expect for Jurassic World 3, but Bryce Dallas Howard's excitement when discussing it with Collider is still pretty relatable. For longtime fans, this upcoming installment of the Jurassic Park franchise feels especially poignant. After all, it doesn't just represent a "band getting back together" scenario. It's been decades since we saw Sam Neill, Laura Dern and Jeff Goldblum go toe-to-toe with dinosaurs, and it will be really interesting to see how the original series' characters blend with this new generation.
Bryce Dallas Howard also spoke to the timing for when production on Jurassic World: Dominion can resume. While we've already heard that they're ramping up to resume in July, she continued to tell Collider that as far as she knows, Universal Pictures will be making the judgment call "soon," and that everyone is working hard to make sure they only go back to work when they can ensure the complete safety of the cast and crew. So that's good news.
We don't know how much of the film has already been shot. Bryce Dallas Howard was on set for Jurassic World: Dominion when production was shut down back in March, and Colin Trevorrow shared an enticing glimpse of the film back in April when he revealed what it's like to work on the film from home. What is clear is that everyone is excited to get back to work when they're able to - Sam Neill recently said he'll be ready to show up on set as soon as they call him.
It's unclear whether the production delays will mean we'll have to wait longer to see Jurassic Park: Dominion. It's currently slated for theatrical release on June 11, 2021.
Your Daily Blend of Entertainment News
Thank you for signing up to CinemaBlend. You will receive a verification email shortly.
There was a problem. Please refresh the page and try again.