When Will Jurassic World 3 Resume Filming? Here's What Sam Neill Said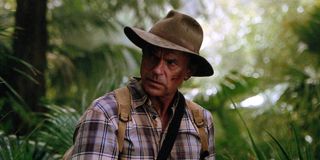 Jurassic World 3 is one of many films that's been put on hold in the wake of the global health crisis. While there's been plenty of uncertainty as to when production can resume, it sounds like one of the franchise's OG stars, Sam Neill, now has at least some idea of when he's going back to work -- and he's more than ready to get back to it.
Filming for Jurassic World: Dominion began in February 2020, scant weeks before Universal Pictures made the decision to ramp down production for all its films. Though the crew was filming in British Columbia at the time, the whole production was set to move to England's Pinewood Studios in March for several weeks of shooting. Well, we all know how that turned out.
While Colin Trevorrow has been WFH with the footage they've already shot, the film's cast has been sheltering at home and waiting for the green light to return to set. It kind of sounds like that's going to be coming soon -- at least according to Sam Neill. He just revealed to The Guardian that there's hope that production could resume as early as July and that, when the call comes, he'll be there:
This isn't the first we've heard of film crews going back to work, but it is the first news we've heard about Jurassic World: Dominion getting back up and running. It's especially cool to be hearing it from Sam Neill, since his long-awaited return to the franchise (along with his Jurassic Park co-stars Laura Dern and Jeff Goldblum) is one of the most exciting aspects of the movie.
It will be interesting to see if the July restart date comes to fruition, and whether or not they'll be able to complete production in one go. There are still a ton of unknowns as to how the pandemic will impact the film industry, both in the short term and the long term - not just when it comes to making movies, but also when it comes to when and how they're released.
At the moment, Jurassic World: Dominion is still seemingly scheduled to hit theaters on June 11, 2021. It's a significant date for the franchise, because it lines up exactly with the original Jurassic Park's release date in 1993. With this, it would be cool if they could stick with that. However, there are a lot of factors to consider, and it will depend not only on if Colin Trevorrow and co. can finish the film by that time but also on whether Universal Pictures needs to shift their release schedule around.
There's also the question of whether movie theaters will be up and running normally at that time. It's hard to imagine the studio would want to stick to a VOD release for Jurassic World 3 -- it definitely seems like the kind of movie you'd want to experience along with other moviegoers.
What do you think about the Jurassic World 3 team going back to work? Let us know in the comments!a
Your Daily Blend of Entertainment News
Thank you for signing up to CinemaBlend. You will receive a verification email shortly.
There was a problem. Please refresh the page and try again.