The Best Joseph Gordon-Levitt Movies, Ranked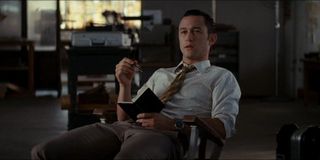 Earlier this month, Amazon Prime unveiled 7500, a taunt, gripping, suspenseful one-location thriller which features an investing lead performance from Joseph Gordon-Levitt. Following his titular turn in Oliver Stone's underwhelming 2016 biopic, Snowden, 7500 marks the surprise and welcomed return of this bright young actor to moviemaking.
Though he had some voice-only cameos in Knives Out and Star Wars: The Last Jedi, Joseph Gordon-Levitt has largely been absent from the screen in recent years, which is a shame because the talented former Angels in the Outfield child star has remained a consistently dependable movie star throughout the years. From studios comedies to indie dramas to thrilling action blockbusters, Levitt has worked in various movie modes and proven himself time-and-time again. With that, let's take a look back at some of the best Joseph Gordon-Levitt movies thus far.
10. Don Jon (2013)
Having amassed 25+ years of acting experience at this point, Joseph Gordon-Levitt took a step behind the camera with his feature screenwriting and directing debut, 2013's Don Jon. The results were energetic, punchy, and undeniably passionate, not to mention stylish and unexpectedly sentimental at times too.
Don Jon centers around Jon Martello (Gordon-Levitt), a young bartender in New Jersey with an overactive libido who might've found his match when he forms a relationship with Barbara (Scarlett Johansson). While not without its broad characters and conventional storytelling beats, Don Jon proved to be an admirable directorial debut and an unexpectedly charming romantic comedy/character study that's elevated by the sizzling chemistry shared between the actor-filmmaker and Johansson. While it might not go on to be one of Gordon-Levitt's best movies later in his career, Don Jon proves to be a promising directorial debut. Hopefully, he'll helm another movie in the future.
9. Lincoln (2012)
While Joseph Gordon-Levitt isn't the standout star of Steven Spielberg's Oscar-winning Lincoln, the actor plays a key part in an incredibly impressive ensemble that includes Daniel Day-Lewis in the title presidential role, Sally Field, Tommy Lee Jones, Adam Driver, Dane DeHaan, David Oyelowo, David Strathairn, James Spader, John Hawkes, Tim Blake Nelson, Walton Goggins, and so many more.
As Robert Lincoln, the only son of Abraham and Mary Todd to reach adulthood, Levitt plays a key personal role in this tale of the president's legacy, one that often explores the man in addition to the legend we see him today. Through this dramatized portrayal of his eldest son, we are given an intimate, emotional glimpse into this U.S. president's home life.
8. Brick (2005)
In Rian Johnson's feature directorial debut, Joseph Gordon-Levitt found the steely gazed role that formed many of his future roles in Brick, a pulpy neo-noir film located on/around a high school campus instead of the other, more adult locations seen throughout the genre prior. He plays Brendan Frye, a high school loner who adopts the role of a young detective and works his way into the underworld of a high school crime ring while investigating the disappearance of of his ex-girlfriend.
While Brick often plays the genre elements straight, there are little moments of sly levity throughout. But for the most part, Brick is a true-blue noir, respecting its elders while also giving a new spin on the familiar beats and characters we expect in this genre. The results are fresh even when familiar, announcing the strong debut of its early filmmaker, and showcasing new range for Gordon-Levitt.
7. Looper (2012)
In his second major collaboration with writer/director Rian Johnson (though he made a cameo in Johnson's sophomore feature The Brothers Bloom), Joseph Gordon-Levitt plays Joe, a contract killer known as a "looper" who is hired by syndicates from the future to terminate people they have sent back in time. The final job is to kill oneself, thus ending the loop. But that proves difficult when Joe's older self (Bruce Willis) is the killer's next target.
Time travel movies often prove to be challenging in terms of keeping narrative consistency and not getting bogged down by the logistics. It's a credit to Johnson's film, therefore, that it never gets too heady while also never sacrificing the smarts in the process, providing a fresh, entertaining new take on the familiar time-looping genre. While Gordon-Levitt must wear distracting facial prosthetics to look like Willis, Levitt's commanding performance never gets repetitive.
6. The Night Before (2015)
Admittedly, this movie didn't win people over as much as it delighted me, but for my money, The Night Before is one of the best R-rated studio comedies in years, and a delightfully warm, hilarious seasonal comedy that deserves more consideration during the yuletide season. Reuniting with 50/50 co-star/producer Seth Rogen and director Jonathan Levine, Joseph Gordon-Levitt plays Ethan Miller, who spends every Christmas Eve with his two childhood friends, Isaac (Rogen) and Chris (Anthony Mackie), after his parents died. But as the years pass, it gets harder to uphold this tradition.
Before they call it quits, these buddies go out in a blaze of glory with the Holy Trinity of parties. The results are the typical stoner antics you'd expect, but the inspired jokes, warm chemistry of our leads, and the movie's winning emotional journey makes this one a gift that keeps on giving.
5. The Dark Knight Rises (2012)
Though the decision to include Robin was widely contested (apologies for spoiling an eight-year-old sequel to one of the biggest blockbusters ever!), it's hard to fault Joseph Gordon-Levitt's commendable portrait of John Blake, a Gotham orphan-turned-detective who shares a bond and kinship with Bruce Wayne.
With an origin story that similarly mirrors our lead character, minus the wealth he acquired, Gordon-Levitt brings a grounded sincerity to his role, one that communicates street smarts and a life without glamor or luxury yet carries about the suffering citizens of Gotham. While he's set to be a major torch bearer in the finale, his hard-luck origins and dedication to the everyday citizens of the always-tormented Gotham makes him humble and likable. The earnest boyish charm mixed with his talents for playing hard-nosed sleuths made him a perfect fit for Christopher Nolan's portrayal of this memorable Batman companion.
4. Mysterious Skin (2004)
In writer/director Gregg Araki's 2004 film, Mysterious Skin, based on the novel of the same name by Scott Heim, Joseph Gordon-Levitt plays Neil McCormick, who along with Brian Lackey (Brady Corbet), was sexually abused as a pre-adolescent, permanently affecting their lives, particularly as they enter young adulthood. Neil, in particular, becomes a reckless and sexually adventurous sex worker, thus forming a bold and challenging role for young Joseph Gordon-Levitt.
One year before Brick, this acclaimed indie was one of two movies that would announce Levitt's change from child star into a serious adult actor. And this raw and harrowing lead performance remains one of the finest performances we've gotten from the young actor yet.
3. 50/50 (2011)
Tragedy is always at the root of comedy, but mining it is never easy. From a marketing perspective, it was hard to know what to make of 50/50, a dark dramedy centered around a young man named Adam (Gordon-Levitt) who is diagnosed with a cancerous tumor in his spine that leaves his chances of survival at 50 percent. That's very heavy stuff, but screenwriter Will Reiser (based on his real-life experiences) and director Jonathan Levine find the lighthearted pathos amid the sadness, while never undermining the severity of this literal life-or-death situation.
The results are a surprisingly winning mix of humor and honesty, painting a realistic, meaningful but never dour portrait of friendship, introspection, and finding the humor in such deep tragedy. It also features one of Gordon-Levitt's finest performances. He balances these tonal shifts with intellect, sympathy, and authenticity. 50/50 is a total success.
2. Inception (2010)
In an ensemble that includes Leonardo DiCaprio, Tom Hardy, Marion Cotillard, Ellen Page, Cillian Murphy, Ken Watanabe, Michael Caine, and many other talented actors, it might've been easy for Joseph Gordon-Levitt to get lost in the shuffle. But his well-suited, practical minded Arthur definitely gets his moments to shine in writer/director Christopher Nolan's mind-bending action-thriller. Particularly in an elaborate fight sequence which finds Gordon-Levitt literally bouncing off the walls, the actor once again proves himself to be a dependable action and dramatic star, capable of bending to the various genres at play in any given project.
His fortitude as an actor can sometimes be overlooked, particularly in his collaborations with Nolan. That's a shame, as his smooth, calculated performances do a great deal to bring quiet gravitas and gentle captivation to these massive blockbusters.
1. (500) Days Of Summer (2009)
While its reception has become slightly more critical, notably in its depiction of our lovelorn lead, there's a great deal worth admiring in Marc Webb's bubbly-yet-thoughtful romantic comedy, (500) Days Of Summer. Part of its success undeniably comes from Joseph Gordon-Levitt's performance as Tom Hansen, an overbearing romantic who pictures his cute romance to Summer (Zooey Deschanel) to be the movie-worthy relationship he's always wanted.
Alas, as the title suggests, that doesn't necessarily pan out. Though contested as a Manic Pixie Dream Girl-type rom-com, (500) Days of Summer proves to be a clever, inventive, and subversive critique/commentary on this familiar '00s trope, with Gordon-Levitt's emotionally complex performance providing nuance to its flashy, stylish presentation. While it's not reflective as it could and should be towards its flawed protagonist, it's a remarkably winning and inspired romantic comedy that follows both its mind and its heart.
We should also mention that there are certainly some honorable mentions. For instance, Robert Zemeckis' The Walk just barely missed the cut. There's also Hesher, The Lookout, Premium Rush, and Stop-Loss. Additionally, I'm sure several people would include 10 Things I Hate About You on their own top ten lists, which is admittedly a blindspot for me (it's on my watchlist!). There's also the aforementioned Angels in the Outfield, which is one of the first movie many folks saw with the future movie star. What's your favorite Joseph Gordon-Levitt movie? Please let us know in the comment section.
Your Daily Blend of Entertainment News
Will is an entertainment writer based in Pittsburgh, PA. His writing can also be found in The Playlist, Cut Print Film, We Got This Covered, The Young Folks, Slate and other outlets. He also co-hosts the weekly film/TV podcast Cinemaholics with Jon Negroni and he likes to think he's a professional Garfield enthusiast.