Joseph Gordon-Levitt Has A Hidden Cameo In Knives Out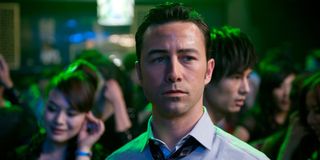 There are plenty of exciting movies still on the way as 2019 comes to a close, but if you're looking for the most star power for your moviegoing dollar, look no further than Rian Johnson's Knives Out. The director of not-at-all controversial Star Wars: The Last Jedi has assembled an all-star cast of actors for his whodunit and now you can add one more name to the list. In an exclusive interview with CinemaBlend, Rian Johnson revealed that Joseph Gordon-Levitt has a hidden cameo in Knives Out. Take a look:
There you have it. Joseph Gordon-Levitt's name may not show up on the poster, but the actor is technically in Knives Out. The actor has a cameo in Rian Johnson's film. Interestingly though, as the director told our own Jeff McCobb, you won't actually see Joseph Gordon-Levitt in Knives Out, but if you're listening closely, you will hear him. The actor's cameo is aural, not visual.
Like his cameo in Star Wars: The Last Jedi, where he voiced a Canto Bight alien named Slowen Lo, Joseph Gordon-Levitt has a voice cameo in Knives Out. According to Rian Johnson, if you pay close attention, JGL's voice can be heard towards the beginning of the film. I haven't seen Knives Out yet so it's unclear whether the actor is providing some sort of narration or background voiceover, but he's definitely in there.
It should come as little surprise that Rian Johnson found a way to get Joseph Gordon-Levitt into the film. The director and actor are frequent collaborators, with Joseph Gordon-Levitt appearing in some fashion in every one of Rian Johnson's films (actor Noah Segan is also in every Rian Johnson film, including Knives Out).
Joseph Gordon-Levitt starred in Rian Johnson's debut feature, the high school noir Brick all the way back in 2005 and he led the director's breakout pre-Star Wars science fiction film Looper in 2012. Even the Rian Johnson films that Joseph Gordon-Levitt didn't star in, he still made his way into. In The Brothers Bloom he shows up in cameo form and in Star Wars: The Last Jedi and now apparently Knives Out, he provides voice cameos.
Although Joseph Gordon-Levitt doesn't physically appear in Knives Out, that's not because Rian Johnson didn't want him to. The director told Jeff that Joseph Gordon-Levitt's schedule simply wouldn't allow him to appear in the film, so a voice cameo is all they could manage to keep their collaborative streak going.
Rian Johnson is eager to get back on set with Joseph Gordon-Levitt again soon though and the director clearly loves working with him. So maybe they will collaborate on something in the near future, like perhaps another mystery featuring Daniel Craig's Detective Benoit Blanc or Rian Johnson's will he or won't he Star Wars trilogy.
We'll have to wait and see, but for now, small voice cameo or not, you can add Joseph Gordon-Levitt's name to the impressive cast of Knives Out, which also includes Daniel Craig, Chris Evans, Ana de Armas, Jamie Lee Curtis, Michael Shannon, LaKeith Stanfield and Christopher Plummer just to name a few.
Knives Out opens in theaters on November 27. Check out our 2019 Release Schedule to keep track of all the movies on the way the rest of this year.
Nick grew up in Maryland has degrees in Film Studies and Communications. His life goal is to walk the earth, meet people and get into adventures. He's also still looking for The Adventures of Pete and Pete season 3 on DVD if anyone has a lead.
Your Daily Blend of Entertainment News
Thank you for signing up to CinemaBlend. You will receive a verification email shortly.
There was a problem. Please refresh the page and try again.